Dr. Tererai Trent is one of the most internationally acclaimed voices for women's empowerment and quality education. Hailed by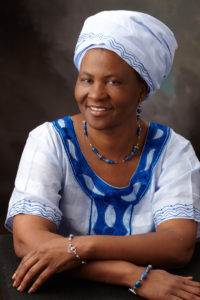 Oprah Winfrey as her "all-time favorite guest," Dr. Trent is an inspiring and dynamic scholar, educator, humanitarian, motivational speaker, author, and the founder of Tererai International. She has appeared on The Oprah Winfrey Show, SuperSoul Sessions, CNN-Voice of Africa, CNBC, and has spoken at the United Nations, TEDx, the Women in the World Summit, and this year's Emerging Women summit, among others. She received her PhD in Interdisciplinary Evaluation from Western Michigan University and holds Master's degrees in Public Health and Plant Pathology. She is the author of The Awakened Woman, Remembering & Reigniting Our Sacred Dreams.
Her favorite motto is "Tinogona," meaning, "It is achievable!"
In this Podcast:
Who is an Awakened Woman?
Not letting Soul Wounds become the narrative of her story
Tererai's journey to becoming an Awakened Woman
How the question 'What are your dreams?' changed her life
Discovering the hunger within to change our world and our communities
It's in the moments of brokenness where we begin to feel the yearning in ourselves
How answering the question 'What breaks your heart?' can awaken you
The baton that is passed from one generation to the next and the soul wounds it carries
"Own your voice, never let somebody define who you are."
"When women begin to awaken and live from their own truth there is healing"
An untold story residing in an awakened woman results in stress and fear
As women we are the healers, the creators, the wisdom carriers, if we can all come together we can change the world
Why rituals help us rise together
"rituals are our point of faith, bringing us together"
Learn the ritual that changed the direction of Tererai's life
Ululation to support manifestation
Dig deep within you to find your great hunger and support your dream that might support the greater good
The connection between our happiness and the achievement of our dreams
It's time women take the reigns of our erotic power
When girls are educated they are more likely to make strategic decisions about their lives
62 million girls are being denied the right to education globally
Inspired Round Q&A:
Most Inspiring Book-
Favorite Song-
Best Resource-

Other women and men who are for women
She stands on the shoulders of giants

Surprising Fact About Tererai-

She still loves climbing trees even now

Most Important Thing to Know About Tererai-

Her mother remains her mentor, her compass, the one who gives her direction spiritually. She always asks what would my mother do?
Tinogona means "It is Achievable", Tererai's mantra!
Interview Links:
Book:
Website:
Facebook:
twitter:
Instagram:
Thank You for Listening! Just One Favor…
If you loved what you heard, I'd love it if you'd share it using the social media buttons at the top or side of this page!
If you like what you're hearing on Inspired Conversations, I would be very appreciative of your Rating & Review in iTunes. Which will allow the show to reach an even greater audience! I will make sure to thank you by name for your (hopefully) 5-star review on an upcoming show!