Rob is the host of the Open Sky Fitness Podcast, along with his beautiful wife Devon. Rob is a lifestyle and fitness expert based out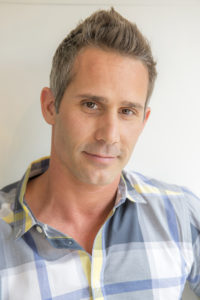 of Los Angeles. He specializes in helping busy people and entrepreneurs get out from behind their desks and carve out time to create a better quality of life for themselves and their family.  He is on a mission is to provide you with the best information out there. Whether your goal is to lose weight, build muscle or figure out a way to juggle all the crazy stuff in your life, we'll help you achieve the next level in your healthy lifestyle.
In this show:
Rob's journey into fitness
From Actor, to Personal Trainer, to Podcaster
Generational Eating, how to stop the pattern
How to navigate the family bubble of eating and shifting the patterns
Your job is not to fix everyone's eating habits but to be an example of what is possible for them
Add good habits rather than subtract bad ones – why this is key to your success with optimal health
Why cutting out processed foods and sugar is a key to better health
The myth of calories in and calories out
Remember the process is the result
Inspired Round Q&A:
Most Inspiring Book-
Favorite Song-
Best Resource-
Surprising Fact About Rob-

He's a guys guy very active but he couldn't care less about sports

Most Important Thing to Know About Rob

He's on a constant quest to improve himself. He shares his learnings on his show and he doesn't have it all figured out, he's constantly sharing.
Interview Links:
Program:

Starting July 16, 2018 – Sky Fit Challenge – 8 week program, adding in new habits

Podcast: 
Website:
Facebook:
twitter:
Instagram:
Thank You for Listening! Just One Favor…
If you loved what you heard, I'd love it if you'd share it using the social media buttons at the top or side of this page!
If you like what you're hearing on Inspired Conversations, I would be very appreciative of your Rating & Review in iTunes. Which will allow the show to reach an even greater audience! I will make sure to thank you by name for your (hopefully) 5-star review on an upcoming show!