Rebecca Pacheco is an international yoga teacher, creator of the popular yoga and wellness site Om Gal, and writer, author of Do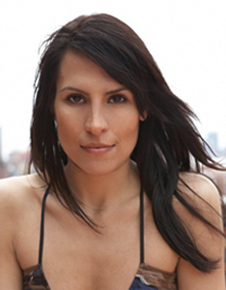 Your OM Thing. She began practicing yoga at the age of 16 and teaching others at age 20.
Formerly a master teacher at the Baptiste Power Yoga Institute in Boston, Rebecca's style now incorporates many yoga influences.  Her classes are known for being fun, fiery, and philosophical, as she loves integrating traditional yoga philosophy in a way that's accessible and inspiring to the modern yogi.
Inspired Round Q&A:
Most Inspiring Book-
Favorite Song-
Best Resource-

Meditation, daily way of anchoring herself

Surprising Fact About Rebecca-

 She's recently taken up boxing. She finds yoga and boxing support each other, there's synergy in it for her.

Most Important Thing to Know About Rebecca-

She's voting for Hilary Clinton. It's a wild topic right now (2016 election year). She's politically active and we have to vote. Voting is our posture and our asana of democracy.
Interview Links:
Book:
Website:
Facebook:
twitter:
Instagram:
Thank You for Listening! Just One Favor…
If you loved what you heard, I'd love it if you'd share it using the social media buttons at the top or side of this page!
If you like what you're hearing on Inspired Conversations, I would be very appreciative of your Rating & Review in iTunes. Which will allow the show to reach an even greater audience! I will make sure to thank you by name for your (hopefully) 5-star review on an upcoming show!