TEDx Poet Rachel Kann is a modern-day mystic: irreverently reverent and exuberantly human.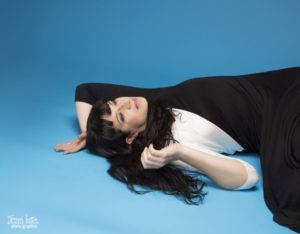 Her most recent work, The Upward Spiral, (a spoken word album with ambient electronica music,) is a collaboration with music producer Jaz 1 on the M87 record label.
She's a Write Club Los Angeles champ and resident writer for Hevria. Her poetry has been featured on Morning Becomes Eclectic on NPR and as The Weather on the podcast phenomenon, Welcome to Night Vale.
Her work has received accolades from the Rabbit Heart Poetry Film Festival, (finalist), James Kirkwood Fiction Awards (short story), Writer's Digest Short-Short Story Awards (micro-fiction), LA Weekly Awards (best supporting actress) Backstage West Garland Awards Critic's Picks (best supporting actress) and both the audio and video award for the International Slam Idol (poetry).
She's been invited to perform her poetry at TEDx UCLA and in Flight 18 (where she was the DJ and Dance Captain as well) at 3LD Technology in New York City. She teaches poetry and fiction workshops through the Writers' Program at UCLA Extension.
Inspired Round Q&A:
Most Inspiring Book-
Favorite Song-
Best Resource-

Laughter- such sweet relief.

Surprising Fact About Rachel-

 She can tie a cherry stem in a knot with her tongue

Most Important Thing to Know About Rachel-
 Interview Links:
Website:
Facebook:
twitter:
Thank You for Listening! Just One Favor…
If you loved what you heard, I'd love it if you'd share it using the social media buttons at the top or side of this page!
If you like what you're hearing on Inspired Conversations, I would be very appreciative of your Rating & Review in iTunes. Which will allow the show to reach an even greater audience! I will make sure to thank you by name for your (hopefully) 5-star review on an upcoming show!