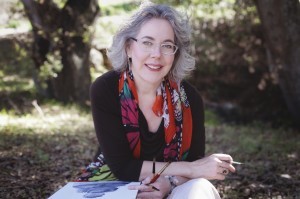 Originally from Indiana by way of Seattle, Peg Conley is an artist, writer and CEO of her company, Words & Watercolors in San Francisco where she also resides. Her work is on cards, calendars, notecards, list pads, coasters, wall art and now quilting fabric. Peg's intention with her work is to inspire and her art and writing all speak to life's great truths and those aha moments.
Inspired Round Q&A:
Most Inspiring Book-
Favorite Song-
Best Resource-

Unconditional Love, her husband and her cast

Surprising Fact About Peg-

She's an artist now but now in the creative world people are shocked she was in Corporate Sales. 

Most Important Thing to Know About Peg-

She's challenged just like everyone else. She's optimistic and positive and feels lucky to have had inspiring parents. Their voices come through and she feels their support. She hopes to enrich and inspired those who come in contact with her work/art through cards, books or calendars.
Interview Links:
Thank You for Listening! Just One Favor…
If you loved what you heard, I'd love it if you'd share it using the social media buttons at the top or side of this page!
If you like what you're hearing on Inspired Conversations, I would be very appreciative of your Rating & Review in iTunes. Which will allow the show to reach an even greater audience! I will make sure to thank you by name for your (hopefully) 5-star review on an upcoming show!