Paula Josa Jones is a dancer, choreographer, writer, visual artist, educator, and equestrian. Who is dedicated to nourishing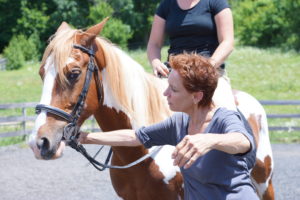 improvisational practice in work and play, and discovering how to be non-habitual in mind and body. her research is embodied 100% of the time. She believes in deepening creativity and awareness playfully, through the body, and finding ways to expand, knowing with all fifty trillion cells, not just the ones perched on our necks. That means having a 24/7 wide-awake, multi-sensory, bodily experience of ourselves and the world. She works with dancers, visual artists, actors, writers, horse people, groups and individuals of all backgrounds and experience who are seeking new ways to approach their movement and creative practice. Paula is also the Author of Our Horses Ourselves, Discovering the Common Body: Meditations and Strategies for Deeper Understanding and Enhanced Communication
In this podcast:
Embodiment and the impact it has on individuals
Embodiment means you have a conscious flowing awareness, of the ongoing feelings in your body and also includes whats going around you externally. A flow between inner awareness and outer awareness
The commute is what's challenging between the outer and the inner feelings and connecting them.
Holding the inner awareness while having the outer awareness simultaneously the commute between the two is challenging
orienting to pleasure
What the sense of bodily awareness gives us
Consciously move towards expansion and flow in our lives
Sense of not having access to our full creative selves
How the expressive world of ourselves is lost in this preoccupied functional movement of our bodies
How we can be more open to the unexpected, improvisational movement which then opens us up to more of ourselves
What the common body is
Horses are congruent
Horses reflect our inner behavior not what they see on the outside of us
Her hopes for how she wants her book to impact people
She considers herself an explorer and her investigation is 24/7 always opening to different perspectives
How are relationships are about reciprocity, can you allow yourself to be touched as much as we offer it to others
Self-expression and deep listening, allowing and receiving from others as much as we give
*deep listening comes from her friends work Pauline Oliveros, composer
Inspired Round Q&A:
Most Inspiring Book-
Favorite Song-
Best Resource-

Horses, always
Indoor jungle to help with the winter season, she stands with her plants to let it infuse her

Surprising Fact About Paula-

How many tattoos she has, too many to count because they are a flow

Most Important Thing to Know About Paula-

She's an investigator and she's really interested in the conversations she's having with humans, the sycamore tree outside her studio. She really enjoys the ability to create the unexpected channel for communication. It's in places we just don't expect and for us to continue to be open to possibilities.

Daily Practice-

She listens
Her horses and riding, a huge sense of making connection and grounding herself
She has  studio movement practice and she listens to her body, it's not planned
Interview Links:
Book:
Website:
Facebook:
twitter:
Instagram
Thank You for Listening! Just One Favor…
If you loved what you heard, I'd love it if you'd share it using the social media buttons at the top or side of this page!
If you like what you're hearing on Inspired Conversations, I would be very appreciative of your Rating & Review in iTunes. Which will allow the show to reach an even greater audience! I will make sure to thank you by name for your (hopefully) 5-star review on an upcoming show!