Nikol Peterman is a Certified Empowerment coach who works with leading creatives that struggle to attract their ideal audience,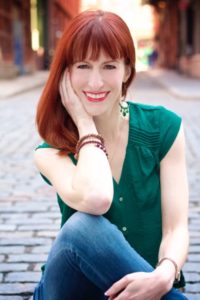 fill their performances and see themselves as valuable.  She empowers creatives to be free and prosperous, coaching them to create free of stress in their projects, and feel confident and secure in their creative expression. She specializes in skills for overcoming fear and the constant roller coaster of rejection and short-lived elation. Nikol ultimately empowers the client to create from a place of authenticity and joy, instilling a wealthy mindset and ability to take inspired action. The creative becomes seen and celebrated, stepping onto the Stage of their Life!
Nikol had a 20 year career as a professional performer and choreographer, appearing in National Tours, Film, Commercials, Modeling and was a NYC Rockette. She currently lives in NYC and can be found raising her binoculars to view a bird, hiking, or geeking out over amazing stories.
Inspired Round Q&A:
Most Inspiring Book-
Favorite Song-
Best Resource-
Surprising Fact About Nikol-

She's a bird watcher ( a birder) 

Most Important Thing to Know About Nikol-

She's been there and she get's it. She really went through some rough times and she was on the rollercoaster and identified her results and believing her self worth. She truly understands. She feels passionately about helping people who are struggling because she's been there.
 Interview Links:
Center Stage and On Demand – Nikol shared about the amazing training she has put together with other creative leaders with the unified objective to come together and empower YOU!  If you feel a calling inside to Claim the Spotlight and step onto the Stage with your Message, join me for this free training, Center Stage and In Demand. Finally book yourself consistently!
Website: 
Facebook:
twitter:
Instagram
Thank You for Listening! Just One Favor…
If you loved what you heard, I'd love it if you'd share it using the social media buttons at the top or side of this page!
If you like what you're hearing on Inspired Conversations, I would be very appreciative of your Rating & Review in iTunes. Which will allow the show to reach an even greater audience! I will make sure to thank you by name for your (hopefully) 5-star review on an upcoming show!