Neva Lee Recla, At age 2 she had business cards. At age 5 she supported veterans. At age 6 she led an advisory board.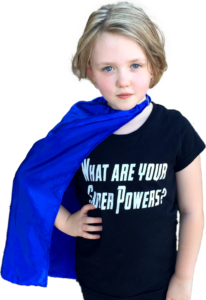 At age 7 she founded Super Power Kids™ Now, Neva Lee Recla is on a mission to change the world. She's committed to encouraging 1 million kids to start their own businesses and inspiring parents to support them.
In this Podcast:
Why she started handing out business cards
She wants to inspire kids to change the world
She shares her first business venture and the reason for doing it
Learn how she wants to change the world
What kids are capable of
Shares why she would do a trust fall into a crowd from the stage while speaking
Her advice to you as you get started in business or in a podcast
One of the best things you can do is not be defensive or offended by what people think of you, it's a gift, not a put-down – the people judging are super scared and they are also playing a role for you to help you and you can experience something beautiful
she shares why she doesn't like being called normal
Why she doesn't need the world to like her
Her favorite subject to talk about on her podcast – Super Powers and why
Her journey in podcasting and how it's let her discover who she is
Shares her advice to anyone who wants to be a podcaster
Why we need to know and use our Super Powers
She shares who's made the funniest face on her show (and she's interviewed a lot of people)
Why paying attention is important in life and business
If an 8-year-old can do it, so can you
Inspired Round Q&A:
Most Inspiring Book-
Favorite Song-
Best Resource-

Her assistant Alexis, who is amazing!

Surprising Fact About Neva-

She's still learning how to ride a bike (for burning man this year)

Most Important Thing to Know About Neva-
Interview Links:
Website:
Facebook:
twitter:
YouTube:
LinkedIn:
Instagram:
Thank You for Listening! Just One Favor…
If you loved what you heard, I'd love it if you'd share it using the social media buttons at the top or side of this page!
If you like what you're hearing on Inspired Conversations, I would be very appreciative of your Rating & Review in iTunes. Which will allow the show to reach an even greater audience! I will make sure to thank you by name for your (hopefully) 5-star review on an upcoming show!