Celebrated wellness expert and healthy living innovator, Nealy Fischer, has helped countless people eat well, move more, and ultimately to crave a healthier lifestyle.
Nealy strives to make it possible for everyone to master their own kitchen — and life — while forging their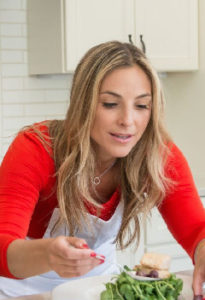 own path, not following a carbon copy rulebook. Admittedly a reformed perfectionist, she learned her craft as a child in her mother's kitchen, spending years applying all the rules before deciding it was far more exciting to break them. Pleasing a husband, four children, and evolving groups of guests, she writes and tests her own recipes until they pass muster with people's diverse palates and dietary needs.
Nealy Fischer splits her time between Hong Kong, Israel, and the United States. Her global lifestyle yields many rewards. Living on three continents provides the impetus to go-with-the-flow living and reimagine recipes, making flexibility the main ingredient in preparing the food her family, friends, and guests crave.
An intense study of yoga taught Nealy one must first be skilled and strong in the basics in order to bend, a mantra she passionately applies to all she does. Her blog, newsletter, YouTube cooking channel, and lifestyle videos — some featuring her children as they forge their own paths in the kitchen — inspire others to lead creative and healthy lives, and to take the reins in the process.
Her mission to help others live a more craveable life has resulted in the design and execution of immersive cooking events, luxury yoga retreats, and women's wellness empowerment programs with renowned health professionals
Inspired Round Q&A:
Most Inspiring Book-
Favorite Song-
Best Resource-
Surprising Fact About Nealy- 

Just because she's in wellness doesn't mean she's not stressed. She finds strategies to deal with her stress.

Most Important Thing to Know About Nealy-

She's not here to teach you her way of doing things, she wants you to find your way of doing things, to find ways of living a craveable life on your terms.
 Interview Links:
Website:
Facebook:
Youtube:
Instagram:
Thank You for Listening! Just One Favor…
If you loved what you heard, I'd love it if you'd share it using the social media buttons at the top or side of this page!
If you like what you're hearing on Inspired Conversations, I would be very appreciative of your Rating & Review in iTunes. Which will allow the show to reach an even greater audience! I will make sure to thank you by name for your (hopefully) 5-star review on an upcoming show!