Molly Montgomery is a startup growth strategist and mentor to high performing founders and visionary leaders. She helps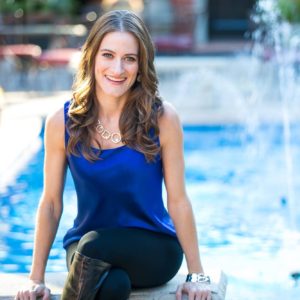 founders grow or scale their company with confidence and peace-of-mind.
She is the creator of Founder's Haven, the first resource of its kind that helps high performing founders stay connected to their greatest potential while helping alleviate the immense pressure that comes along with being the creator of a high-growth company. The driving force behind a startup's ability to succeed is in the founder's capacity to evolve, personally and professionally, while actively leading their company through its early stages of growth. Founder's Haven helps founders stay in alignment and ahead of the game, fueling them with joy and fulfillment in their entrepreneurial journey, which directly impacts the success of their company and everyone involved. Molly's unique approach to mindset training brings immediate relief to the anxiety and overwhelm that is so common among high performing founders, helping them stay connected to their creative energy.
In this podcast:
How she's driven by people understanding what's driving them in their own work
Being a founder and the entrepreneurial path is a creative endeavor
When you start taking action towards your vision and where you should go with your experience
get in alignment with self to know what you truly want in life and business to know what is driving what you are creating
Impact vision, financial relationship to be addressed in your journey
Scaling a business may not be what you want once you start growing your business
The process of what you think you have to do and connecting to what you are truly here for and are in alignment with your path
Hiring team for execution and growth of business
The resourcefulness of entrepreneurship
Creative flow is a process of receiving and acting almost simultaneously and how it supports growth
Inspired Round Q&A:
Most Inspiring Book-
Favorite Song-

Indie station on spotify
Odessa

Best Resource-

Sleep tracking app on the iphone

Surprising Fact About Molly-

She doesn't watch tv and stopped watching 10 years ago, she stopped watching news and she has newsfeed blockers on her social media. She's getting rid of all the noise that triggers internal distraction and anxiety.

Most Important Thing to Know About Molly-

What's most important is what she believes about life. It's not about her. She was put on this planet at this time with her gifts for a certain purpose. She knows she has a purpose here and it's what drives everything she does
Interview Links:
Facebook:
Thank You for Listening! Just One Favor…
If you loved what you heard, I'd love it if you'd share it using the social media buttons at the top or side of this page!
If you like what you're hearing on Inspired Conversations, I would be very appreciative of your Rating & Review in iTunes. Which will allow the show to reach an even greater audience! I will make sure to thank you by name for your (hopefully) 5-star review on an upcoming show!