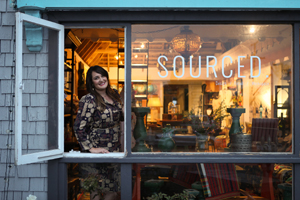 Michelle Mercado founder of Sourced a California Collective. Sourced is a network of like minded creative individuals within the world of interior, fashion and event design. Everyone involved is motivated by at least one common interest or passion of growing their individual business which leads to collaborative efforts on projects, events, and workshops. The first location opened in Laguna Beach CA in August 2013
Michelle brings her passion for Event Planning to a shared home and created a company within hands-reach to the best vendors in the business––strengthening the bond, relationships and understanding in what it takes to pull off a successful event.
We talk about being an entrepreneur and the power of collaborating with others and the impact behind it all! Genius ideas are shared in this Inspired Conversation!
Inspired Round Q&A:
Most Inspiring Book-Reads magazines, blogs, social media, constantly reads blogs and magazine to see what other people are doing to be visually stimulated helps her move into the doing.The journey of finding something she likes about it and make it work into something she's about to do.

Favorite Song-
Best Resource-
Surprising Fact About Michelle-

She's not as crafty as you'd think. She'd rather do spreadsheets than do a craft.

Most Important Thing to Know About Michelle-

She's still figuring this out and she's so happy about being authentic to it. At 14 she knew she wanted to be a wedding planner and she doesn't feel like she's in a box and she's so happy doing what she's doing and giving herself the freedom to figure it out. Allowing herself the room to figure it out and welcome the people wanting to be involved in that part of all of this for her makes her happy!

 Interview Links:
Thank You for Listening! Just One Favor…
If you loved what you heard, I'd love it if you'd share it using the social media buttons at the top or side of this page!
If you like what you're hearing on Inspired Conversations, I would be very appreciative of your Rating & Review in iTunes. Which will allow the show to reach an even greater audience! I will make sure to thank you by name for your (hopefully) 5-star review on an upcoming show!