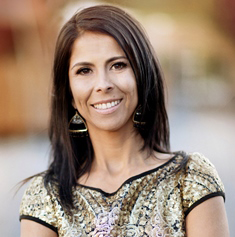 The Michelle Ghilotti International way is the no apologies path to branding yourself or your company. For 12 years now, trotting around the globe with experience derived from working with brands such as Nike, adidas, Starbucks and got milk?, Michelle and MGI have been supporting women make happiness their business by creating their authentic brands.
Michelle has been a part of the branding success of companies big and personal. Whether Nike events or small business design, Michelle has helped companies and  countless women gain brand clarity and has delivered logos, visual identities, advertising campaigns, taglines, websites, brand stories, event ideas and so much more.
In this conversation Michelle and I talk about being authentically ourselves, as women in our business and life. It's really the happiness factor, bringing more joy and love to everything we do and being who we really are. I love this conversation and I know you're going to glean an insight or spark of wisdom that might just change the way you are being in the world right now!
Inspired Round Q&A:
Most Inspiring Book- The Happiness Project, Gretchen Rubin

Favorite Song-  Magic, Coldplay

Best Resource- Oversized 3M post its. Uses them to create muscle memory with mantras or intentions or a word. She post them everywhere. Keeping the truth of life and magic top of mind.

Surprising Fact About Michelle- She's spontaneous in business and in life. Thinking about expanding her family and is inspired to maybe more to South America to have a baby.
Most Important Thing to Know About Michelle-Comes back to love. Works everyday to infuse love. She's all about love. In work, in family. She wants everyone to take away that there is always room and time to give love.We always have time to infuse someone else's life with love so then we can infuse our lives with more love and happiness.
 Interview Links:
Thank You for Listening! Just One Favor…
If you loved what you heard, I'd love it if you'd share it using the social media buttons at the top or side of this page!
If you like what you're hearing on Inspired Conversations, I would be very appreciative of your Rating & Review in iTunes. Which will allow the show to reach an even greater audience! I will make sure to thank you by name for your (hopefully) 5-star review on an upcoming show!