Michael Gebben spent 7 years building a video company that was the envy of everyone in his field, GebbsTV. Until, one day, he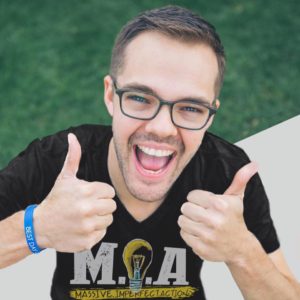 woke up to the realization that he'd built a cage of his own making. And given up so much of his life in the name of something that didn't really mean a whole lot.
So he hit reset, and over the last three years, rebuilt his life and his career around what matters and even launched a new inspirational Youtube channel. He has profoundly changed his metrics for success.
Michael's current company Jumpstarters helps creative entrepreneurs to get over the same hurdles that he was able to conquer, allowing him to work with individuals such as Tim Ferris, Tony Robbins and Richard Branson. Michael is a big believer in Massive Imperfect Action rather than getting stuck in the minutia and never moving forward.
In this podcast:
Metrics for success in business
When you get to do things vs. having to do things and the impact it has on you
He sees the most success when people pursue the things they'd do even if they didn't need money
How 'my way' helped him get his time and joy back
Taking imperfect Action
"At least when you try there is an opportunity for something good to happen"
"The bad is happening by not trying"
Inspired Round Q&A:
Most Inspiring Book-
Favorite Song-
Best Resource-
Surprising Fact About Michael-
Most Important Thing to Know About Michael-

If you didn't need money what would you do, what would you keep doing, stop doing and start doing? He loves talking and connecting with people and would do it no matter what. The thing he knows that if he's not doing he knows he's learning every day that it's the thing for me. He is who he is, he loves talking and sharing with people.
Interview Links:
Website:
Facebook:
twitter:
YouTube:
Thank You for Listening! Just One Favor…
If you loved what you heard, I'd love it if you'd share it using the social media buttons at the top or side of this page!
If you like what you're hearing on Inspired Conversations, I would be very appreciative of your Rating & Review in iTunes. Which will allow the show to reach an even greater audience! I will make sure to thank you by name for your (hopefully) 5-star review on an upcoming show!