Matt Kahn is a spiritual teacher and highly-attuned empathic healer. He is the author of the book, "Whatever Arises, Love That."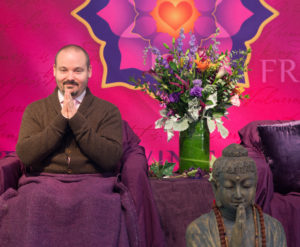 His spontaneous awakening arose out of an out-of-body experience at the age of 8, and through his direct experiences with ascended masters and archangels throughout his life. Using his intuitive abilities of seeing, hearing, feeling, and direct knowing, as an empath, Matt feels the emotions of others and is able to pinpoint what blocks any heart from opening. As a result, he brings forth revolutionary teachings through both the written and spoken word that assist energetically-sensitive beings in healing the body, awakening the soul, and transforming reality through the power of love.
Inspired Round Q&A:
Most Inspiring Book-

He doesn't have one, he doesn't read.

Favorite Song-
Best Resource-

Relying on his own divine presence, turning toward self as a self sustaining expression of light. 

Surprising Fact About Matt-

He's in really good shape right now because he's lost 25lbs and he's passionate about cooking and he's really good at it!  

Most Important Thing to Know About Matt-

Anything that anyone has experienced, he has experienced. We've all had the feeling, he's lived a journey, just as everyone else has. He loves to be surrendering and turning to love within himself. It's what we do with it.
 Interview Links:
Book:
Website:
Facebook:
twitter:
YouTube:
Thank You for Listening! Just One Favor…
If you loved what you heard, I'd love it if you'd share it using the social media buttons at the top or side of this page!
If you like what you're hearing on Inspired Conversations, I would be very appreciative of your Rating & Review in iTunes. Which will allow the show to reach an even greater audience! I will make sure to thank you by name for your (hopefully) 5-star review on an upcoming show!