Hosting him on her show, Super Soul Sunday, Oprah dubbed Mastin Kipp an "up and coming thought leader of the next generation of spiritual thinkers." Mastin's work is also lauded by Arianna Huffington, Marianne Williamson, Tony Robbins and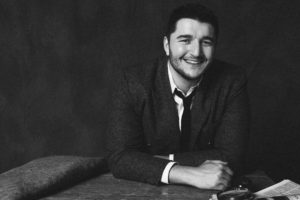 more. His mission today is to reconnect people with what makes them happy. Mastin feels happy people make better choices, and better choices make for a better planet. Mastin is a best-selling author, life coach and interventionist.
He recently, he concluded a successful 30-city North American tour. Mastin divides his time between his homes in Los Angeles and Asheville, NC with his girlfriend, Jenna, and conducting seminars across the USA, Europe and beyond.
Inspired Round Q&A:
Most Inspiring Book-
Favorite Song-
Best Resource-

Diet, nutrition and exercise. Knowing your insulin levels is very important
PFCNutrition.com Kevin Libby and Dr Philip Goglia

Surprising Fact About Mastin-

He says he's a big dork, he loves everything Star Wars and Lord of the Rings and he geeks out on technology. 

Most Important Thing to Know About Mastin-

It's not about Mastin, it's about you and you stepping into your purpose. It's about helping, serving others to break free from their limitations so they can step into their purpose to make a greater impact. If we have enough people break free and step into their purpose there will be a tidal wave and it will change the world.
 Interview Links:
Book:
Website:
Facebook:
twitter:
Instagram
The Four Questions Mastin mentioned at the top of the show. How he gets to his why:
What do I love to do and what comes easy to me?
Who am I jealous of or who am I inspired by?
What makes me compassionately angry and gives me that emotional drive and desire to show up everyday?
What previous pain or trauma hae I been through that I've learned lessons from to help people expedite their own process?
Thank You for Listening! Just One Favor…
If you loved what you heard, I'd love it if you'd share it using the social media buttons at the top or side of this page!
If you like what you're hearing on Inspired Conversations, I would be very appreciative of your Rating & Review in iTunes. Which will allow the show to reach an even greater audience! I will make sure to thank you by name for your (hopefully) 5-star review on an upcoming show!