Mark Nepo moved and inspired readers and seekers all over the world with his #1 New York Times bestseller The Book of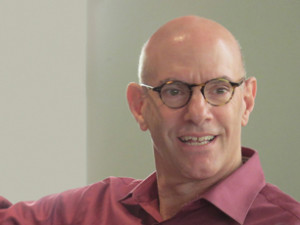 Awakening. Beloved as a poet, teacher, and storyteller, Mark has been called "one of the finest spiritual guides of our time," "a consummate storyteller," and "an eloquent spiritual teacher." His work is widely accessible and used by many and his books have been translated into more than twenty languages. A bestselling author, he has published sixteen books and recorded eleven audio projects. Mark was part of Oprah Winfrey's The Life You Want Tour in 2014 and has appeared several times with Oprah on her Super Soul Sunday program on OWN TV. He has also been on Good Morning America. Mark devotes his writing and teaching to the journey of inner transformation and the life of relationship. He continues to offer readings, lectures, and retreats. We talk about his latest work, Inside the Miracle, Enduring Suffering, Approaching Wholeness.
Inspired Round Q&A:
Most Inspiring Book-
Favorite Song-
Best Resource-

He's always inspired to see anyone immersed in what they love to do, whether it's a mechanic, a ballerina, an athlete. Inspired by the documentary 422 about the choreographer Justin Peck.

Surprising Fact About Mark-

He's just a regular guy, he loves watching sports and all the championship games 

Most Important Thing to Know About Mark-

He has an unshakable gratitude to be here at all and unshakable belief in life, people and our heart. Our heart is the strongest muscle we have and it never lets us down.
 Interview Links:
Books: 
Website:
Facebook:
twitter:
Thank You for Listening! Just One Favor…
If you loved what you heard, I'd love it if you'd share it using the social media buttons at the top or side of this page!
If you like what you're hearing on Inspired Conversations, I would be very appreciative of your Rating & Review in iTunes. Which will allow the show to reach an even greater audience! I will make sure to thank you by name for your (hopefully) 5-star review on an upcoming show!