Renaissance woman Mariel Hemingway is not only an iconic Academy Award nominated actor from a celebrated family, she is a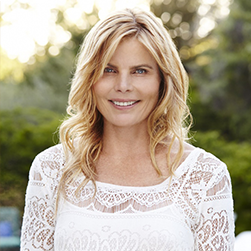 prolific author, healthy lifestyle brand entrepreneur, and a tireless mental health awareness and suicide prevention program advocate, recently sharing the stage with Hillary Clinton, Patrick Kennedy, and other world-class Keynote speakers.
Mariel's much sought after purpose-driven presentations entertain, educate, engage and enrich, focusing on topics including: mind-body-spirit optimization, purposeful living, and mental health related issues. She shares her own evocative story about growing up in a home where there were great challenges in order to inspire others to do the same, thereby cultivating compassion and understanding and breaking down the stigma so often associated with the discussion of mental illness.
In a high-tech world, Mariel is considered an expert in high-touch solutions which facilitate finding one's authentic voice and experiencing the greatest sense of personal power, life balance, joy, fitness, authenticity and peace of mind.
We connect on many of these topics in this Inspired Conversation that I'm so excited to share!
Inspired Round Q&A:
Most Inspiring Book-
Favorite Song-

Tapestry,  Carole King (the best way to listen and get the emotion is listening to an LP on a record player)

Best Resource-

Nature, she gets her biggest sense of energy from nature, it fuels her! To feel more 'me' she heads to nature.

Surprising Fact About Mariel-

She's extremely funny and she loves to laugh! 

Most Important Thing to Know About Mariel-

She feels like she's at the beginning of something. The beginning of her big adventure and she doesn't know what that adventure is but is excited to find out
 Interview Links:
Book:
Documentary:
Website:
Facebook:
twitter:
Instagram
Thank You for Listening! Just One Favor…
If you loved what you heard, I'd love it if you'd share it using the social media buttons at the top or side of this page!
If you like what you're hearing on Inspired Conversations, I would be very appreciative of your Rating & Review in iTunes. Which will allow the show to reach an even greater audience! I will make sure to thank you by name for your (hopefully) 5-star review on an upcoming show!