For Family, Adventure and hope. This is the story of a family leaving it all behind to cycle across America and save the lives of malnourished children. For the details of Luke's vision and his WHY, check out Episode 6 of Inspired Conversations. This conversation (Episode 58) is about the journey. Luke and his family left it all behind to spend the Summer & Fall of 2014 on the road to raise awareness and funds for Severe Acute Malnutritioned children (stopsam.org).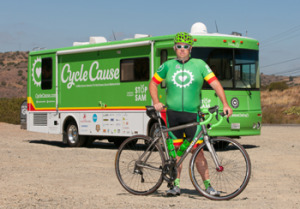 He tells me about the reality of the trip, the connection with his family, the rough days, their re-entry back to 'life as usual' which is nothing of the sort. I appreciate his authenticity in sharing the impact of this journey and what he hopes to leave the listeners with. I find Luke truly inspiring!
He started STOPSAM, an organization to stop severe malnutrition in children because it's possible. A 6 week treatment $50 and it saves a life
93% of children who go on this treatment, a one time treatment never need to go back on it. His commitment is 100% of money raised on the trip will be given to the cause. Click Here if you'd like to Donate
This conversation will help you think bigger for yourself and your life. Give you a reason to have a more thoughtful conversation about what you are up to in the world and ask yourself, Is it big enough?
Inspired Round Q&A:
Most Inspiring Book-

Favorite Song-
Best Resource-

His Network of people. The people you know will take you further in life than you can ever imagine!


Surprising Fact About Luke-

He doesn't see himself as an athlete. He's stubborn on a bike and pushes himself. He's just a guy trying to ride a bike!

Most Important Thing to Know About Luke-

There's a cost for inspiration, a story the people had to live and sacrifice in order to share it to inspire people. He doesn't want people to just consume it and feel warm and fuzzy from it. He wants people to go out and do something with it. He wants to hear, because you inspired me with what you did, here are the things I did because of it!

Interview Links:
Thank You for Listening! Just One Favor…
If you loved what you heard, I'd love it if you'd share it using the social media buttons at the top or side of this page!
If you like what you're hearing on Inspired Conversations, I would be very appreciative of your Rating & Review in iTunes. Which will allow the show to reach an even greater audience! I will make sure to thank you by name for your (hopefully) 5-star review on an upcoming show!