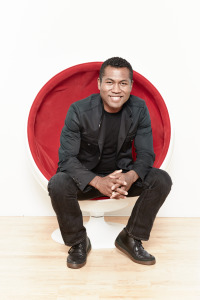 Kute Blackson is an utterly unique visionary in the world of human potential. Unlike those who promise to simply help people "get" what they want, Kute's life work instead reveals to people what they have to give, by liberating who they are most truly and deeply. The focus: Freedom.
World renowned for creating revolutionary results, Kute is creating a world-shift in consciousness and is widely known as a transformational facilitator, speaker, and leader. Today, the venue for his message may be one-on-one, a vast stadium setting, experiential seminars, and transformational travel intensives all of over the world. Kute has an energy that is so powerful and complete, one cannot leave his presence without a recollection and feeling of what love truly is, true love, who they have been all along. His transformative and healing energy is sought out worldwide. Kute is a bold voice for a new generation.
You'll feel his powerful energy come through in this Inspired Conversation! I can't wait for you to experience Kute!
Inspired Round Q&A:
Most Inspiring Book- All wisdom exists inside of you. Books remind you of what you already know. The source of all wisdom and knowledge inside of us. Tap into the wisdom the knowledge the information of your soul, your soul will guide you. You will be blown away by how much your soul knows.
Favorite Song- Strobe, Dead Mau5 (extended version)

Best Resource- Meditation & My Soul-Meditation, is the pathway to go inside and to go into your soul. Your soul is your ultimate resource. The real source is within, go within and listen! Don't forget to be your own best resource!

Most Important Thing to Know About Kute- That I love you! And we are in this together, no matter what you're experiencing we are one humanity. Let's do this I love you!!

 Interview Links:
Website: For his details and info on his journey's and intensives
Facebook:
YouTube:
Instagram:
twitter:
Thank You for Listening! Just One Favor…
If you loved what you heard, I'd love it if you'd share it using the social media buttons at the top or side of this page!
If you like what you're hearing on Inspired Conversations, I would be very appreciative of your Rating & Review in iTunes. Which will allow the show to reach an even greater audience! I will make sure to thank you by name for your (hopefully) 5-star review on an upcoming show!