When Klyn Elsbury was born, she was diagnosed with a terminal genetic condition, Cystic Fibrosis and was given a life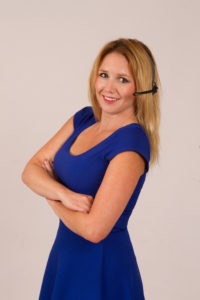 expectancy of 14 years old.  Growing up, she was told that more than likely she wouldn't survive past high school, even less likely to survive past college, and of course the likelihood of owning her own business with excessive hospitalizations, diminishing health, etc would be nearly impossible.  Her story has been featured on several other podcasts and on US Nightly News w Lester Holt, in part, because she has proven that with the right attitude and perseverance, you can be successful in anything in life (from owning a business to being comfortable with knowing every day you may not live to see tomorrow).
She is the best-selling author of "I AM _: The Untold Story of Success" a blend of raw emotion and inspiring wisdom that draws a parallel between what it means to live as if every day is your last and what it means to create a highly impactful legacy through entrepreneurship and athleticism.  She currently lives in California with the love of her life. Together, they are the co-owners of Landmark Makers, a recruiting services firm dedicated to high-growth companies that offer workshops and recruitment services nationwide.
Inspired Round Q&A:
Most Inspiring Book-
Favorite Song-
Best Resource-

Her Cell phone- such a great way to make someone's day. Tune in to hear the 30 day challenge she's doing

Surprising Fact About Klyn- 

She loves taking cardio hip hop

Most Important Thing to Know About Klyn-

She's easily approachable and welcomes all connections.
 Interview Links:
Book:
Website:
twitter:
LinkedIn: –
Thank You for Listening! Just One Favor…
If you loved what you heard, I'd love it if you'd share it using the social media buttons at the top or side of this page!
If you like what you're hearing on Inspired Conversations, I would be very appreciative of your Rating & Review in iTunes. Which will allow the show to reach an even greater audience! I will make sure to thank you by name for your (hopefully) 5-star review on an upcoming show!