Katie Goodman is an award-winning musical comic, actress, author, speaker, and social activist. She has been seen on Showtime's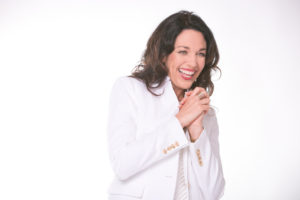 The Green Room With Paul Provenza, on Current TV as a pundit, and on TruTV. Katie is a featured blogger for The Huffington Post, has contributed to O, The Oprah Magazine and is the author of Improvisation For The Spirit and the new funny children's book, The Night Our Parents Went Out. She is the creator and headliner of "Broad Comedy," an internationally touring satirical musical show that she and her husband Soren Kisiel write and direct. Her solo show is presently playing in New York City where she received a Time Out New York Critic's Pick for Best Cabaret. Katie & Soren ran their own theatre company for 15 years acting and directing in over 125 plays. Katie and Soren were nominated for The EPIC Award from The White House Project for emerging artists and were also nominated for the MacArthur Foundation Genius Grant for their extensive work in theatre. Her album is available on Itunes, her books on Amazon, and her comedy music videos can be seen, having amassed 2 million hits on Youtube.
Inspired Round Q&A:
Most Inspiring Book-
Favorite Song-
Best Resource-

Her friends, where she gets material and talking it out with people
app Chill (her husband has it)

Surprising Fact About Katie- 

She doesn't get nervous doing Improv. She does get nervous when she has a new song she's performing, afraid she's going to forget it with Improv there is nothing to remember it takes all the fear away.

Most Important Thing to Know About Katie-

She knows her work isn't about her, that it's about the people she speaks to in her audience. Her job is to inspire people to go live authentically and courageously and save the world. She hopes when she's onstage she inspired people to go out and make a difference in the world.
 Interview Links:
Book:
Website:
Song: Move Some Shit Around:
YouTube: 
Facebook:
twitter:
Linked In:  
Instagram:
Thank You for Listening! Just One Favor…
If you loved what you heard, I'd love it if you'd share it using the social media buttons at the top or side of this page!
If you like what you're hearing on Inspired Conversations, I would be very appreciative of your Rating & Review in iTunes. Which will allow the show to reach an even greater audience! I will make sure to thank you by name for your (hopefully) 5-star review on an upcoming show!