Katie is not an expert in anything, but she's an enthusiast of a bunch of things!
Simply put she loves sharing people, places, things, and ideas that inspire her.  Starting in 2011 her blog and podcast became the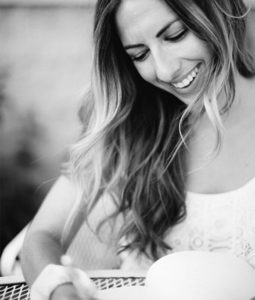 perfect outlet to curate all the content that inspired katie. Through her podcast, videos and writing she shares what she loves in hopes to build a community, elevate the topics she's passionate about, and encourage people discover what they're enthusiastic about too.
To figure out what she was an enthusiast of, she had to get to know herself a bit better. Eventually, she started journaling. Simply writing out her unfiltered authentic thoughts and feelings heightened self-awareness and therefore helped her become more herself.  In 2016 her first book Let It Out: A Journey Through Journaling was published.
she's on a mission to share journaling tools that invoke deeper authenticity and true self-acceptance.
She also helps people spark their creativity and apply their inspiration to their unique situation through one-on-one mentoring where she blends the inspirational with the practical.
Inspired Round Q&A:
Most Inspiring Book-
Favorite Song-

90s music (Lisa Loebe, Cranberries, Alanis Morrisett, Tracy Chapman, Third Eye Blind)

Best Resource-
Surprising Fact About Katie-

She knows every single line to the musical Rent 

Most Important Thing to Know About Katie-

She's trying her best, her goal in life is to be better at knowing herself. If she knows herself better she can maybe express herself better. She's not perfect but she does want to improve and express herself. She wants to be seen and heard!
Interview Links:
Book:
Website:
Podcast:
Facebook:
twitter:
Instagram
Thank You for Listening! Just One Favor…
If you loved what you heard, I'd love it if you'd share it using the social media buttons at the top or side of this page!
If you like what you're hearing on Inspired Conversations, I would be very appreciative of your Rating & Review in iTunes. Which will allow the show to reach an even greater audience! I will make sure to thank you by name for your (hopefully) 5-star review on an upcoming show!