Kathi Lipp inspires thousands of women each year to strip down their expectations and lives and live with real purpose. With humor and wisdom, Kathi offers hope paired with practical steps to live with meaning She is the author of 16 books including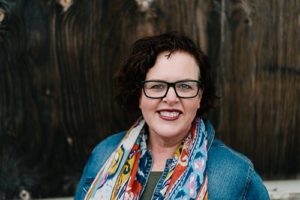 Clutter Free, The Get Yourself Organized Project, The Husband Project, Happy Habits for Every Couple, and I Need Some Help Here – Hope for When Your Kids Don't Go According to Plan. She is the host of Clutter Free Academy the Podcast! with Kathi Lipp and speaks at conferences across the US.
She has become well respected on the topics of clutter from a biblical perspective (who knew there was such a thing?). She is a national speaker and is often featured on Focus on the Family, MOPS International, Crosswalk.com, and Nickelodeon TV's Parent Connect as well as a number of other media outlets around the country. She was recently named "Best of Broadcast" on Focus on the Family.
Inspired Round Q&A:
Most Inspiring Book-
Favorite Song-
Best Resource-

Loves to listen to Podcasts
Fun things are feeding her soul right now Facebook Group called Dog Spotting she loves to see the pics and it feeds her soul, she can't live without it.

Surprising Fact About Kathi- 

She has dyslexia and that she used to be a competitive synchronized swimmer, great training and helped with her discipline and athleticism.

Most Important Thing to Know About Kathi-

Joy is possible for anyone who didn't experienced it for a very long time. Joy was not her jam when she was younger. If you believe things can't change, it's completely untrue,  things can change.
 Interview Links:
Books by Kathi:

Overwhelmed.website – Her latest book

Website:
Facebook:
twitter:
Thank You for Listening! Just One Favor…
If you loved what you heard, I'd love it if you'd share it using the social media buttons at the top or side of this page!
If you like what you're hearing on Inspired Conversations, I would be very appreciative of your Rating & Review in iTunes. Which will allow the show to reach an even greater audience! I will make sure to thank you by name for your (hopefully) 5-star review on an upcoming show!