Karen Steil was born on Albert Einstein's birthday, March 14, 1946, in West Palm Beach, FL. She was baptized into her religious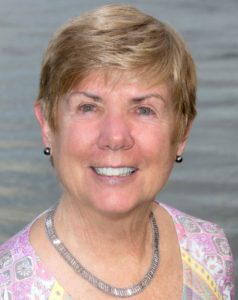 faith at the age of 8, but she was "saved" by the 12 Steps of Alcoholics Anonymous at the age of 30. She found her "way" to the mountain top through the tenets of Unity Church, A Course in Miracles, and the Teachings of Abraham®. She received a BSBA from the University of Phoenix in 1994, a License to Minister from Emmanuel Bible College in Macon, GA in 1997, and an MPA from University of Central Florida, in 2005.
She is the author of The Church of ProfitSea
In this podcast:
We are all evolving, transforming and changing in this world
What the Church of ProfitSea means – we are living in a sea of profit in this universe
She explains the evolution of religion
A new trinity – Happy, Healthy & Wealthy
Creating your own reality is about belief, the bedrock of creating (good or bad, you get what you believe)
The power of coming together with like-minded people
Self-worth and connecting with the self, takes some re-programing and letting go
What's possible when you know you are completely unlimited
Newthoughtchannel.com
The Game of Life by Florence Scovell Shinn
She desires everyone listening becomes the you that you truly are
Inspired Round Q&A:
Most Inspiring Book-

Einstein said "imagination is more important than knowledge" there comes a time when you have to stop pulling it in and start giving it out.
She doesn't have a go-to book

Favorite Song-

She dances around to 25 songs on her playlist each morning
Gimme Dat Ding is one of them
Being in alignment with source is rhythmic and flowing

Best Resource-

Source energy is her only resource

Surprising Fact About Karen-

People are shocked when they find out she has 7 ex-husbands

Most Important Thing to Know About Karen-

She is purely positive, non-physical god force, source, love energy, that's what she is
Interview Links:
Book:

The Church of ProfitSea, A New Trinity: Happy, Healthy and Wealthy

Website:
Facebook:
Thank You for Listening! Just One Favor…
If you loved what you heard, I'd love it if you'd share it using the social media buttons at the top or side of this page!
If you like what you're hearing on Inspired Conversations, I would be very appreciative of your Rating & Review in iTunes. Which will allow the show to reach an even greater audience! I will make sure to thank you by name for your (hopefully) 5-star review on an upcoming show!