Kaia Van Zandt is a celebrated author and teacher whose novel, Written in the Ashes, chronicles the events that led up to the burning of the Great Library of Alexandria, Egypt. Kaia's spiritual journey began at age 14 when she founded the youth division of the Humane Society of the United States. Then as a junior in high school, she traveled to the Earth Summit in Brazil, where she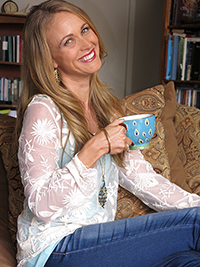 taught meditation, and was given the opportunity to work with world leaders on the challenges facing humanity and the planet today, an experience that profoundly influenced her work. She's a graduate of Antioch University, where she focused on the intersection between the ancient Goddess traditions and modern culture. Her fascination with healing-both personally and collectively – led her to yoga. During her career she's worked with thought leaders like Marci Shimoff and Deepak Chopra, actors like Ashley Judd, Jamie Lee Curtis, and Garry Shandling, as well as Sony ImageWorks, UCLA Medical, and the San Francisco 49ers. Her beloved writing mentor is bestselling novelist/humorist, Tom Robbins.
Inspired Round Q&A:
Most Inspiring Book-

Books that make her laugh & let go
David Sedaris

Favorite Song-
Best Resource-
Surprising Fact About Kaia-

 She's Pagan, a practicing Druid, a bird watcher and bird lover. She feeds the crows in her neighborhood and calls them in. 

Most Important Thing to Know About Kaia-

It's not to know about her but her message. She believes together that women can and will save the world- get connected to the sisterhood.
 Interview Links:
Book:
Website:
Facebook:
twitter:
Instagram:
Thank You for Listening! Just One Favor…
If you loved what you heard, I'd love it if you'd share it using the social media buttons at the top or side of this page!
If you like what you're hearing on Inspired Conversations, I would be very appreciative of your Rating & Review in iTunes. Which will allow the show to reach an even greater audience! I will make sure to thank you by name for your (hopefully) 5-star review on an upcoming show!