Dr. Joe Vitale is the author of way too many bestselling books to mention here. Some of them include The Attractor
Factor, Life's Missing Instruction Manual, The Key, Faith, Attract Money Now and his latest is a sequel to his bestseller,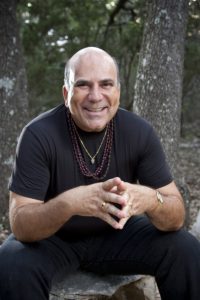 Zero Limits entitled At Zero. And his latest release, The Secret Prayer!
He's also recorded many Nightingale-Conant audio programs, to name a few, The Awakening Course, The Missing Secret, The Secret to Attracting Money, The Abundance Paradigm, The Ultimate Law of Attraction Library and his latest release is called, The Zero Point.
Joe has also been in several movies, including the blockbuster The Secret. He's been on the following TV shows: Larry King Live, Donny Deutsch's "The Big Idea," CNN, CNBC, CBS, ABC, Fox News: Fox & Friends and Extra TV. He's also been featured in The New York Times and Newsweek.
One of his most recent accomplishments includes being the world's first self-help singer- songwriter as seen in 2012's Rolling Stone Magazine®. To date, he has released 15 albums! Several of his songs were recognized and nominated for the Posi Award, regarded as "The Grammys of Positive Music."
He created a Miracles Coaching® program and helps people achieve their dreams by understanding the deeper aspects of the law of attraction and the law of right action. This man was once homeless but today is a bestselling author who believes in magic and miracles.
He's simply a guy who follows his passion, never knowing where it's going to take him.
Teases out of people, what would you do with your life if you took money out of the equation
What would we do if money wasn't an issue, that's in the direction of your passion
Pay attention to how you feel in your body it's a way to find your guiding light
Everything in life comes through relationships, we are here as a team.
Sharing is how we prosper
He shares the hawaiian healing technique, ho'oponopono
Inspired Round Q&A:
Most Inspiring Book-
Favorite Song-
Best Resource-
Surprising Fact About Joe- 

He took Strong Man Training and can bend horse shoes, steel rods, screws and bolts with his bare hands. He can leverage the strength of his mind and body.

Most Important Thing to Know About Joe-

He's a guy who is following his passion wherever it leads him with the sole purpose for enjoying his life and inspiring other people to live the best lives possible for them too.

Daily Practice

Meditates everyday- goes offline, only available to receive inspiration from the Great Something. Makes himself available to receive
Gets in hot tub, under the Texas sky and is grateful.
 Interview Links:
Books:
Website:
Facebook:
twitter:
Thank You for Listening! Just One Favor…
If you loved what you heard, I'd love it if you'd share it using the social media buttons at the top or side of this page!
If you like what you're hearing on Inspired Conversations, I would be very appreciative of your Rating & Review in iTunes. Which will allow the show to reach an even greater audience! I will make sure to thank you by name for your (hopefully) 5-star review on an upcoming show!