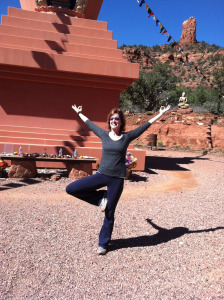 Jody Theissen is a mom, Yoga Teacher, Musician, Song Writer, friend, human being. She resonates mostly with Human Being as when she is in that state of awareness everything just flows from there.   As far as yoga, Jody is now on her 6th year of teaching. She trained with Cloud Nine Yoga and has continued her studies in Thai Yoga Therapy, Kundalini, Yin and Restorative Yoga, Meditation Techniques, Sound Therapy and Spritualism. Jody is a powerful sound healer as I know, I take weekly classes with her. I love this interview into Jody's insights regarding mindfulness, awareness and living moment to moment.
Stay tuned until the very end where you'll hear and receive a special sound healing from Jody!
Inspired Round Q&A:
Most Inspiring Book-
Favorite Song-
Best Resource-
Most Important Thing to Know About Jody-She's a human being just like everyone else, allowing things to move & stepping into life's current with the miracles that are always there.
 Interview Links:
Thank You for Listening! Just One Favor…
If you loved what you heard, I'd love it if you'd share it using the social media buttons at the top or side of this page!
If you like what you're hearing on Inspired Conversations, I would be very appreciative of your Rating & Review in iTunes. Which will allow the show to reach an even greater audience! I will make sure to thank you by name for your (hopefully) 5-star review on an upcoming show!