Jill Lublin is an international speaker on the topics of Radical Influence, Publicity, Networking, Kindness, and Referrals.  She is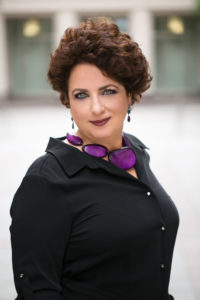 the author of 4 bestselling books including Get Noticed…Get Referrals, Guerrilla Publicity, Networking Magic and her latest, The Profit of Kindness. Jill is a master strategist on how to position your business for more profitability and more visibility in the marketplace.  She is CEO of a strategic consulting firm and has over 20 years' experience working with over 100,000 people plus national and international media.  Jill teaches Publicity Crash Courses as both live events and live webinars as well as consults and speaks all over the world.
Inspired Round Q&A:
Most Inspiring Book-
Favorite Song-
Best Resource-

kitty hugs, she has 4 cats and playing with her cats gets her re-inspired
Nature, connecting outside is important to her and she loves the ocean

Surprising Fact About Jill- 

Lots of things would be surprising, she's a complex human. She's a strong business woman, spiritually based, intuitive in business and she uses her intuition in business.

Most Important Thing to Know About Jill-

She's really committed to getting positive messages out, support the planet. She's a messenger of messengers, telling our stories and using the media and the power of the media to do so
 Interview Links:
Books:
Website:

support(at)jilllublin.com for any questions you may have for Jill

Facebook:
twitter:
Thank You for Listening! Just One Favor…
If you loved what you heard, I'd love it if you'd share it using the social media buttons at the top or side of this page!
If you like what you're hearing on Inspired Conversations, I would be very appreciative of your Rating & Review in iTunes. Which will allow the show to reach an even greater audience! I will make sure to thank you by name for your (hopefully) 5-star review on an upcoming show!