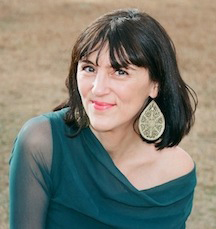 Jen Sincero is a Best Selling author, success coach and motivational cattle prod who gave up her home in California in early 2011 to travel the world indefinitely and encourage as many people as possible to live lives of unbridled awesomeness.
Over the years Jen has helped countless people transform their personal and professional lives via her seminars, private sessions, public appearances, newsletters, products and, most recently, her new book, You Are a Badass: How to Stop Doubting Your Greatness and Start Living an Awesome Life. She's spoken on stages all over the world and has coached full-on super heroes, helping her clients build their dream businesses, become NY Times Bestselling authors, navigate million dollar business deals, find their soul mates and forgive their bitchy mothers who they now realize were doing the best they could. Jen has run her business from all corners of the globe and is really sick of writing in the third person.
You're going to love Jen's energy, spirit, enthusiasm and direct approach. She always makes me laughs and always takes the conversation in a direction that will WOW you, because, you know, she is a BADASS!!!
Inspired Round Q&A:
Most Inspiring Book-
Best Resource- laptop & currency converter app

Most Important Thing to Know About Jen- Jen had a deep story about didn't know how to make money and she just couldn't make it. In her 40s living in a dinky apartment and driving a crappy car and when she focused on learning she changed her lifestyle. She did anything she had to do to make money and understand and break her pattern. She decided and has learned how to make money- she wants you to know If you decide to change it (whatever your story is) you can!
 Interview Links:
Thank You for Listening! Just One Favor…
If you loved what you heard, I'd love it if you'd share it using the social media buttons at the top or side of this page!
If you like what you're hearing on Inspired Conversations, I would be very appreciative of your Rating & Review in iTunes. Which will allow the show to reach an even greater audience! I will make sure to thank you by name for your (hopefully) 5-star review on an upcoming show!