Isabella Price is an international speaker, adjunct faculty at JFK University, and the author of the "One Truth, Many Paths" book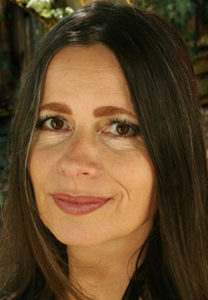 series on the world's wisdom traditions, which includes her most recent bestselling book Goddess Power: Awakening the Wisdom of the Divine Feminine in Your Life. For over 25 years, Isabella has been teaching classes and workshops at numerous institutions of higher education and religious venues. She holds an MA in the humanities from the University of Zurich, Switzerland. She is a certified SQ21 Spiritual Intelligence coach and also teaches meditation to veterans suffering from PTSD and other community members.
In this podcast:
Why the divine feminine is coming through right now
Why this is important at this time
Her relationship with Amma
How her left brain changed when she became more connected with herself
How she nurtures herself and the feminine within
Balancing the divine feminine
How divine feminine is portrayed across cultures and religions
Divine Feminine is rising right now because of the imbalance of the hyper-masculinity in our institutions
The wisdom of the traditions of the divine feminine is creating a healthy balance now
The goddess story is our story of birth and death, change and renewal.
Change is happening now, the mother is the evolutionary catalyst behind all the movements we see moving forward right now
The repressed energy that's coming forward right now is palpable
She shares the goddesses that are at play right now
She shares how to access the goddess power
How to invoke the divine feminine
She explains the sacred marriage within us
Inspired Round Q&A:
Most Inspiring Book-
Favorite Song-

Kirtan Music, devotional chanting

Best Resource-

Spiritual mentors, her husband, her dear friends, walks in mother nature

Surprising Fact About Isabella-

She's got another side to her besides kind and loving. She likes to bend the notions of stereotypes of the married woman and she surprises people with it sometimes

Most Important Thing to Know About Isabella-

Most passionate about the exploration to find who she truly is and has the calling to serve others and assist others on their psycho-spiritual journey.
Interview Links:
Book:
Website:
Facebook:
twitter:
LinkedIn:
Thank You for Listening! Just One Favor…
If you loved what you heard, I'd love it if you'd share it using the social media buttons at the top or side of this page!
If you like what you're hearing on Inspired Conversations, I would be very appreciative of your Rating & Review in iTunes. Which will allow the show to reach an even greater audience! I will make sure to thank you by name for your (hopefully) 5-star review on an upcoming show!