Heidi Rose Robbins' first book of poetry, This Beckoning Ceaseless Beauty, was released to enthusiastic reviews in 2013. Of the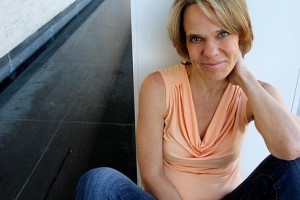 book, author Danielle LaPorte wrote, "These poems make me want to live more fully, deeply…Heidi Rose Robbins notices the beauty of life." In addition to her work as a poet, Heidi has supported many men and women through life transitions as an esoteric astrologer and as the leader of Radiant Life retreats, in which she teaches women how to live fuller, more expressive and courageously loving lives. She's a founding member of The Hello Love Experiment (hellolove.us), a radical on-going project of naming, embodying, and realizing love in the world. Heidi lives in Southern California with her husband, Andrew Heffernan, and two children, Kate and Dylan. Learn more about her poetry, retreats and grounded approach to astrology at www.heidirose.com.
Inspired Round Q&A:
Most Inspiring Book-
Favorite Song-
Best Resource-
Surprising Fact About Heidi- 

Even though she's an astrologer, she's a very compassionate skeptic, very grounded and likes to get to the truth and wants to get to things that make a difference for people, not make predictions.

Most Important Thing to Know About Heidi-

She's a midwestern girl at heart with a really radical desire to help us all love ourselves more fully and deeply and thereby love one another more and deeper!
 The biggest treat is her poem Wild Compassion, she reads on the show! It's fantastic, you can hear it about the 29:00 minute mark! Don't miss it, it will touch your heart!
Interview Links:
Book: 
Tedx Appearance:
Website:
Facebook:
twitter:
Thank You for Listening! Just One Favor…
If you loved what you heard, I'd love it if you'd share it using the social media buttons at the top or side of this page!
If you like what you're hearing on Inspired Conversations, I would be very appreciative of your Rating & Review in iTunes. Which will allow the show to reach an even greater audience! I will make sure to thank you by name for your (hopefully) 5-star review on an upcoming show!