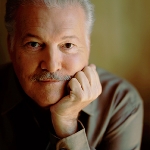 Hans Christian King is a true modern day mystic – a direct voice medium and metaphysics expert, specializing in channeling and spirit communication. His ability to communicate with the Spirit realm and work in partnership with his Guidance has helped more than 55,000 clients in private readings over the last fifty-five years.
Gifted with the rare ability to bridge the gap between the physical and the spiritual worlds, Hans literally walks in both realms.  A very important part of his work is devoted to providing comfort to those who have lost loved ones, as he brings them powerful and personal messages from the other side. Hans also teaches a wide range of classes, including an intensive series of Intuitive Development classes.
Inspired Round Q&A:
Most Inspiring Book-
Favorite Song-
Best Resource-

Clouds, sky, watching the sun react to the flowers, colors. Nature is his resource.

Surprising Fact About Hans-

He loves to watch British Sitcoms on Saturdays.

Most Important Thing to Know About Hans-

He wants you to know that you have a resource, you are not alone. God loves you, God hears you. God doesn't love anyone more than you.
Lives change dramatically when you return to source!
 Interview Links::
Thank You for Listening! Just One Favor…
If you loved what you heard, I'd love it if you'd share it using the social media buttons at the top or side of this page!
If you like what you're hearing on Inspired Conversations, I would be very appreciative of your Rating & Review in iTunes. Which will allow the show to reach an even greater audience! I will make sure to thank you by name for your (hopefully) 5-star review on an upcoming show!