Erin Falconer has had a varied career that includes screenplay writer, stand-up comedian, and political consultant. She is now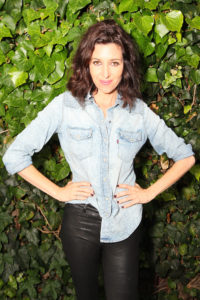 proudly, heavily invested in the online blogging world. Since 2008 she has been the editor-in-chief and co-owner of Pick The Brain. Pick The Brain is not only a great passion project but it's also one of the fastest growing and most trusted self-improvement websites and communities on the web. With over 400 bloggers from around the world contributing content, named to over 100 "best of the web" lists, and read in more than 35 countries daily, under Erin's guidance, PTB has truly become a powerful global voice and brand in the self-improvement space.
Erin Falconer has been heralded as one of the most influential female voices online. Pick The Brain has been named Top Motivation Blogs for 2106 by WealthyGorilla.com. She was designated one of the Top Digital Entrepreneurs in Los Angeles by LA Confidential as well as being honored by Cadillac & Refinery 29 as one of "Top 7 Women Changing the Digital Landscape for Good." In 2013 Forbes Magazine named Falconer's blog one of the "Top 100 Most Influential Sites for Women" (alongside such powerhouses as Pinterest, BlogHer, and Hello Giggles, among others). In 2014, The Wall Street Journal included Erin in their prestigious "Women of Note" network, an exclusive network of powerful female leaders, designed to recognize and foster the continued success of innovative women.
Erin is also the co-founder of LEAFtv (http://www.leaf.tv/), a video lifestyle brand for the Millennial. In 2015, LEAFtv was sold to publicly traded Demand Media. As a result of her work with LEAFtv she was honored as one of the Top 10 Most Influential Women in Tech. Erin has a large, captive audience and is a very well-respected voice in the self-improvement space, with access to well over 700,000 followers on social media alone.
Inspired Round Q&A:
Most Inspiring Book-
Favorite Song-
Best Resource-
Surprising Fact About Erin-

 She was once a stand up comedian and she's also a hypochondriac

Most Important Thing to Know About Erin-

She's a good listener and she loves to connect in a meaningful way with others.

Daily Practice

Meditation
Starts her morning slowly to ease into the day
Cooks at least one meal a day
Interview Links:
Book:
Website:
Facebook:
twitter:
Thank You for Listening! Just One Favor…
If you loved what you heard, I'd love it if you'd share it using the social media buttons at the top or side of this page!
If you like what you're hearing on Inspired Conversations, I would be very appreciative of your Rating & Review in iTunes. Which will allow the show to reach an even greater audience! I will make sure to thank you by name for your (hopefully) 5-star review on an upcoming show!