Emily Fletcher is the founder of Ziva Meditation and the creator of zivaMIND, the world's first online training. Ziva's mission is to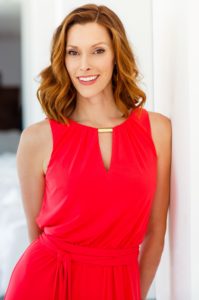 make meditation attractive and accessible to people who are ready to up-level their performance and their lives. Recently featured in The New York Times, named named top 100 women in wellness to watch and regarded as one of the leading experts in Vedic meditation, Emily has been invited by companies like Google, Barclays Bank, sweetgreen, & Viacom to help improve company performance through meditation.
She began her ten years of training in Rishikesh, India and was inspired to teach after experiencing the profound physical and mental benefits meditation provided her during her 10-year career on Broadway, which included roles in Chicago, The Producers & A Chorus Line.
Emily has been invited to speak at Harvard Business School, Bulletproof Biohacking Conference, Summit Series, A-Fest and The Omega Center. So far, she has taught over 2,800 people to become self-sufficient meditators with this game changing practice to take with them for life.
Inspired Round Q&A:
Most Inspiring Book-
Favorite Song-
Best Resource-
Surprising Fact About Emily-

She's the most competitive meditation teacher in the land. She's not really competing against anyone else, she gets the joke that there is only one thing and we are all it. It's a fun way to motivate and move forward.

Most Important Thing to Know About Emily-

Take this little piece of knowledge that you don't have to give your mind a command to be silent to meditate. If people can hold this. Be on their journey so it's easier to commit. We need the whole world meditating right now.
Interview Links:
Website:
Facebook:
twitter:
Thank You for Listening! Just One Favor…
If you loved what you heard, I'd love it if you'd share it using the social media buttons at the top or side of this page!
If you like what you're hearing on Inspired Conversations, I would be very appreciative of your Rating & Review in iTunes. Which will allow the show to reach an even greater audience! I will make sure to thank you by name for your (hopefully) 5-star review on an upcoming show!