Elizabeth Lane is a book buyer at an independent book store as well as founder of new subscription box service, quarterlane,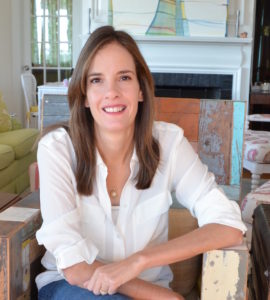 which delivers a luxury box set filled with an assortment of quality books, art and seasonal gifts on a quarterly basis. In this overwhelming digital age, quarterlane's literary collections highlight the romance of the printed page and are the perfect gift for yourself or others. Each quarterlane box speaks to the soul of that season and reminds us, there is no substitution for a good book, good art and those treasured moments between a reader and a newly discovered story. Elizabeth strongly believes in reading as an act of self-care — similar way to meditation, we have so few moments today to sit with something for an extended period of time that's not a screen — it's refreshing and clearly does good things for our brains and sense of well-being. It's important to find time in our day for quiet, with a good story, that's such a luxury (costs very little) and reaps huge benefits — you can easily change your life many times over and books provide that opportunity — to see different viewpoints, consider different realities and find new aspects of yourself.
Inspired Round Q&A:
Most Inspiring Book-
Favorite Song- 
Best Resource-
Surprising Fact About Elizabeth-

She's got a nerdy aspect of herself and loves working with code on her website and loves to fix things and has a secret desire to be a web designer. She also might like to be a Chef too 

Most Important Thing to Know About Elizabeth-

She wants to share the power of stories and books and the healing that can come from them and add a little delight to it through a gift in a box. She'd love people to find space and grace in the day to read and find what they love.
Interview Links:
Website:
Facebook:
Instagram:
Thank You for Listening! Just One Favor…
If you loved what you heard, I'd love it if you'd share it using the social media buttons at the top or side of this page!
If you like what you're hearing on Inspired Conversations, I would be very appreciative of your Rating & Review in iTunes. Which will allow the show to reach an even greater audience! I will make sure to thank you by name for your (hopefully) 5-star review on an upcoming show!