Elissa Goodman is a holistic nutritionist and lifestyle cleanse expert who believes that proper nourishment and a daily renewal practice are essential for optimal living. Elissa's mission is to educate and encourage healthy, mindful living helping others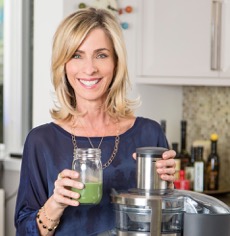 embrace the concept that we are a product of what we eat and how we treat ourselves.  Creator of "Cleanse Your Body, Cleanse Your Life" and "S.O.U.P." Cleanse, her approach to cleansing is gentle and accessible for those looking to renew, recharge, rejuvenate and maintain their healthy lifestyle. She is based in Los Angeles and works privately with professionals and celebrity clients to develop personalized wellness programs that encourage true health from the inside out.   she collaborates with health and wellness partners throughout Los Angeles and is the creator of M Cafés macrobiotic RESET Cleanse, signature juice blends at Erewhon Market and L.A. Juice, and multiple recipes in the grab and go section of multiple Earth Bar locations.  She recently  released her first book, "Cancer Hacks: A Holistic Guide to Overcoming Your Fears and Healing Cancer" available at Amazon.com
Inspired Round Q&A:
Most Inspiring Book-
Favorite Song-
Best Resource-

Medical Medium, Anthony William, he healed her hypothyroidism and hashimotos after 21 years.

Surprising Fact About Elissa-

 She cries over the performances of people  at broadway shows, concerts or dance because she is so in awe of the performances.

Most Important Thing to Know About Elissa-

She absolutely loves people and loves everyone and loves to know what makes them tick the inner workings. She doesn't love the surface she loves the vulnerability in people. She asks a lot of questions she won't give up until she can figure out how she can help them heal. Whether it's physical or mental, she's not happy until she helps them get to a better place. She has a lot of compassion from the darkness she's been through. She wants people to get to a happier, calmer place sooner because for her it took so long and she wants to help.
 Interview Links:
Book:
Website:
Facebook:
twitter:
Instagram:
Thank You for Listening! Just One Favor…
If you loved what you heard, I'd love it if you'd share it using the social media buttons at the top or side of this page!
If you like what you're hearing on Inspired Conversations, I would be very appreciative of your Rating & Review in iTunes. Which will allow the show to reach an even greater audience! I will make sure to thank you by name for your (hopefully) 5-star review on an upcoming show!