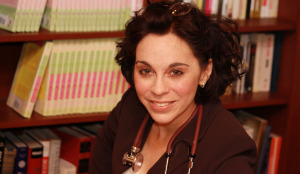 Dr Wider is a nationally renowned women's health expert, author and radio host. She has appeared on The Today Show, CBS News, Fox News, and many others.  Dr. Wider is a medical adviser to Cosmopolitan magazine and hosts a weekly radio segment on Sirius XM Stars called "Am I Normal?". She has been heard on Bloomberg Radio, Howard Stern, Oprah Radio, WABC-AM Talk Radio, among many other stations across the country.
She's phenomenal and I love this conversation about women's health, insightful and so informative! You're going to love her energy!

Dr. Wider is the author of four books, including The Savvy Woman Patient, The Doctor's Complete College Girls' Health Guide, The New Mom's Survival Guide and Got Teens? The Doctor Moms' Guide to Sexuality, Social Media and other Adolescent Realities with Dr. Logan Levkoff.  Dr. Wider is a spokesperson for the Society for Women's Health Research, the nation's only non-profit organization whose mission is to improve the health of all women through research, education and advocacy.
Inspired Round Q&A:
Most Inspiring Book- Tao of Parenting- she's also inspired by Quote books

Favorite Song-
Best Resource- Mindful Meditation, Gabriella Bernstein's Spirit Junkie Spirit Junkie Meditations

Surprising Fact About Dr. Wider- She Does Impressions- tune in for Katherine Hepburn & Donald Duck (she's so GOOD)

Most Important Thing to Know About Dr. Wider- Dedicated her career to help women empower themselves. Get info from a source that is not profiting from the information. Find unbiased information that is out there. Get info from societies out there that are not profiting.

Interview Links:
Thank You for Listening! Just One Favor…
If you loved what you heard, I'd love it if you'd share it using the social media buttons at the top or side of this page!
If you like what you're hearing on Inspired Conversations, I would be very appreciative of your Rating & Review in iTunes. Which will allow the show to reach an even greater audience! I will make sure to thank you by name for your (hopefully) 5-star review on an upcoming show!