Dr. Steven is so inspiring from co-writing songs with his patients to hosting the Dr. Steven Show, he's full of inspiration,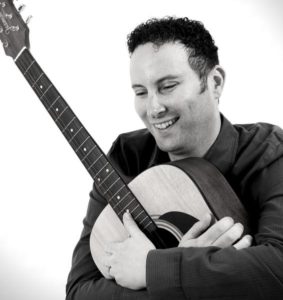 motivation and so much you are going to love hearing from him in this Inspired Conversation!
Dr. Steven Eisenberg completed a medical oncology and hematology fellowship at Georgetown University Medical Center, Vincent T. Lombardi Comprehensive Cancer Center. After training, he co-founded cCARE, California's largest medical oncology practice. He's dubbed the 'CEO' at cCARE, Chief Empathy Officer. His research publications include articles on novel therapies for cancer and his special interests are breast cancer, cancer prevention, patient engagement, and new healthcare technologies. He was one of the first graduates of FutureMed at NASA's Ames Research Center in Silicon Valley. Building upon his expertise in healthcare technology, he joined the faculty of Singularity University's Exponential Medicine program and joined the ranks of the world's top medical innovators.
Dr. Eisenberg is triple-board-certified (Internal Medicine, Medical Oncology, and Hematology) and sees private patients in San Diego. He's had numerous hospital best bedside manner wins and he was the first recipient of the Dr. Emanuel Fliegelman Humanitarian Award for the doctor exhibiting highly compassionate care during residency. After graduating from Singularity University, he co-founded Workup, Inc., a startup in the oral cancer treatment adherence space, for which he serves as Chief Medical Officer. Also known as the singing oncologist, Dr. Eisenberg co-writes songs with amazing individuals living with cancer through Lyrical Life, a passion project of his that was featured on NBC's TODAY show. Steven hosts New Focus Network's top outlet for health information, innovation, and inspiration — Dr. Steven. His guests include A-list healthcare luminaries, thought leaders on the future of medicine, and celebrity health & wellness trainers.
Inspired Round Q&A:
Most Inspiring Book-
Favorite Song-
Best Resource-

Up to Date.com  #1 resource for health information, latest research, patient topics for doctors and healthcare professionals. It's a signal in all the noise that is out there.

Surprising Fact About Dr.Steven-

 He was an ice cream man in his first and second year of med school. Also worked in a health food store. He's a holistic guy who became an Oncologist.

Most Important Thing to Know About Dr. Steven-

The songs will always live on. He's there for his patients, he's a co-writer with his patients, who are writing the songs, it's all about co-creation.
 Interview Links:
Website:
Facebook:
twitter:
Thank You for Listening! Just One Favor…
If you loved what you heard, I'd love it if you'd share it using the social media buttons at the top or side of this page!
If you like what you're hearing on Inspired Conversations, I would be very appreciative of your Rating & Review in iTunes. Which will allow the show to reach an even greater audience! I will make sure to thank you by name for your (hopefully) 5-star review on an upcoming show!