Dr. Neha Sangwan is the CEO and founder of Intuitive Intelligence, is an internal medicine physician, international speaker and corporate communication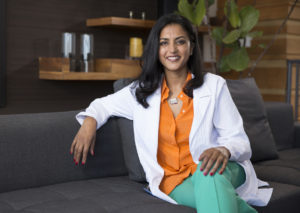 expert. Her private practice and corporate consulting focuses on empowering individuals, organizational leaders, and their teams with the tools for clear, effective communication. She addresses the root cause of stress, miscommunication, and interpersonal conflict, often healing chronic conditions such as headaches, insomnia, anxiety, and depression. She regularly consults with organizations such as the American Heart Association, American Express, Kaiser Permanente, and Google, and has shared her keynote presentation on the stages of TEDx.
In this Episode you will learn:
Her belief is when people find their passions, it starts when you were young, what are the lessons you are learning in your life, that is what you end up teaching.
How we learn from our role models
One of the biggest tragedies in our culture is that we don't teach our children to have a respectful conversation with one another about our emotions.
All the aspects of communication
How to inhabit your body so you can feel your emotions.
She explains why she feels A weakness is a strength over used
True power comes from the balance of truth with compassion.
How you can receive feedback about your weakness and create an opportunity for yourself to understand how it might be a strength over used.
Ways to stay present in honest conversations
Your Passion is comprised of 3 parts

What's something that's your own pain or wound from when you were young if you learn this or share this or heal this
How can by learning something new can I serve and help other people
How can I align with making a real difference in the world with what I've learned and healed and share and make a difference in the world
Me, healing me
We, helping others
World – making a bigger difference
Her greatest goal is world peace
Inspired Round Q&A:
Most Inspiring Book-
Favorite Song-
Best Resource-

Human Connection – the super power in the world she taps into. 
Fresh homemade chai (website link)

Surprising Fact About Neha-

Spent the first 1/2 of life learning data and she believes it's important but she believe intuition is as important as data and gives intuition equal weight to research studies. Honor individuals path. She relies on her intuition as much as data and sometimes intuition wins and she takes leaps of faith without knowing what's next.

Most Important Thing to Know About Neha-

She's still learning and she's just like you!
Interview Links:
Book:
Website:
Book club
Facebook:
twitter:
Instagram:
Thank You for Listening! Just One Favor…
If you loved what you heard, I'd love it if you'd share it using the social media buttons at the top or side of this page!
If you like what you're hearing on Inspired Conversations, I would be very appreciative of your Rating & Review in iTunes. Which will allow the show to reach an even greater audience! I will make sure to thank you by name for your (hopefully) 5-star review on an upcoming show!