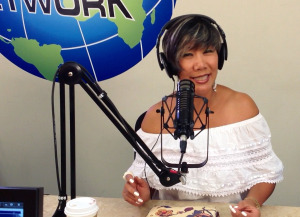 Dr.Marissa Pei, an International Inspirational Speaker, TV commentator, corporate psychologist, consultant, bestselling author, singer/songwriter, Global Thought Leader, competitive sailor, happy mom of 2 teen girls (not an oxymoron), and recovering overachiever. She is best known as "the Asian Oprah" as the talk radio show host of Get Balanced with Dr. Marissa Pei on NBC and also Take My Advice, I'm Not Using It: Get Balanced with Dr. Marissa because of the plethora of past Oprah guests on her show and winning the Asian Entrepreneur of the Year Award 2012. Her newest hot series on the air is called "Sexual Healing". Her life motto is "don't die wondering".
This conversation is filled with tips to enhance your life. Dr. Marissa Pei is filled with inspiration and joy and I know you'll be inspired by her!
Inspired Round Q&A:
Most Inspiring Book-
Favorite Song-

Happy, Pharrell
The 23rd Psalm

Best Resource

iPad
Social Media – Facebook, twitter, Instagram

Surprising Fact About Dr. Marissa Pei

Won Miss Hawaiian Tropics

Most Important Thing to Know About Dr. Marissa Pei

She believes in you! Not trying to get you to drink the koolaid but wants you to make your own lemonade and banana bread. Act on your own behalf on a moment to moment basis and life will support you!
 Interview Links:
Support people's creativity through supporting their products- % of proceeds goes to services and products that supports peace on the planet.
Thank You for Listening! Just One Favor…
If you loved what you heard, I'd love it if you'd share it using the social media buttons at the top or side of this page!
If you like what you're hearing on Inspired Conversations, I would be very appreciative of your Rating & Review in iTunes. Which will allow the show to reach an even greater audience! I will make sure to thank you by name for your (hopefully) 5-star review on an upcoming show!