Dr. Jennifer Haythe, a leading Cardiologist and Assistant Professor of Medicine at Columbia University Medical Center is a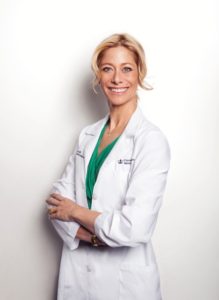 Women's health expert. Dr. Jenn is passionate about women's health and starting the conversations that are associated with health issues among all females! Dr. Haythe's mission is to change the narrative on how women talk about their health and their overall well-being. Often women put off addressing their health issues while they care for other's in their lives, but if we can't talk about our bodies in a comfortable and positive way, how can we truly be healthy?
Despite Cardiology being a heavily male-dominated medical field, Dr. Haythe has become a sought-after specialist in New York City – with a particular interest in both pulmonary hypertension and the care of pregnant women with cardiovascular diseases.
Dr. Haythe continues to find her own motivation and determination through the strong patient and family relationships she has forged, and the gratification of helping her patients get a new life with a heart transplant or assist devices, allowing patients to be able to live a full life with their families, as well as helping pregnant women safely deliver children and be able to care for them with post-delivery health care.
Dr. Haythe lives and practices in New York City. When not working, she enjoys an active lifestyle that includes running, boxing and yoga, as well as spending time with her husband, Eli and their two children.
In this Podcast learn:
Dr. Jenn's journey into heart health
Learn about her passion for women's health
Women  are not given the same level of healthcare in cardiology
Heart disease is the #1 killer of women even overall cancers combined
Educating women about heart disease and what we can do about it
Learn the symptoms of heart disease for women, they are different in women than for men.
The face of heart disease is any woman we know that is having shortness of breath, indigestion,
There is something you can do for Heart disease you can do something about it to reverse the impact and help yourself
Coronary heart disease, symptoms, chest pains present for both men and women, A-typical symptoms are shortness of breath, palpitations, indigestion, a feeling of discomfort,
She talks about the other ways our heart is impacted besides coronary disease and heart attacks
Getting the baseline tests and history of your heart if you have family history
Her mission is to raise awareness among women themselves – first thought should be how's my heart?
Educating women and have women be healthier
Newer risk factor for heart problems and coronary disease to show up later in life is pre-term labor and pre-eclampsia
Inspired Round Q&A:
Most Inspiring Book-

Wonder, she just read it with her youngest child

Favorite Song-
Best Resource-

Free App for Women – Love My Heart (one of the only women's heart apps out there) gives you a risk assessment
Calm – meditation app

Surprising Fact About Dr. Haythe-

Huge horseback rider as a kid almost became professional

Most Important Thing to Know About Dr. Haythe-

She's a mother first, she wants to be the best, healthiest for her kids as she grows older. Taking care of yourself is really important because we need to be there for others
Interview Links:
Thank You for Listening! Just One Favor…
If you loved what you heard, I'd love it if you'd share it using the social media buttons at the top or side of this page!
If you like what you're hearing on Inspired Conversations, I would be very appreciative of your Rating & Review in iTunes. Which will allow the show to reach an even greater audience! I will make sure to thank you by name for your (hopefully) 5-star review on an upcoming show!