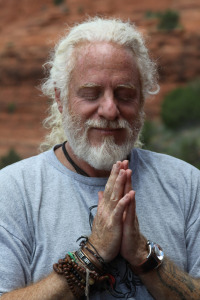 davidji is an Internationally recognized meditation teacher, stress-management guru, a certified Vedic Master, public speaker, and the creator of hundreds of guided meditations, including the critically acclaimed CD davidji: guided meditations. He is also the author of the award winning Secrets of Meditation: A Practical Guide to Inner Peace & Personal Transformation. His teaching style is a unique fusion of timeless wisdom and real-world practical application. If there's one book to read on moving through challenges and taking your life to the next level, it's Secrets of Meditation!
This conversation gives you a peak into davidji's daily practice and some incredible meditation tips! We talk about making conscious choices, how meditation is the pause, the pattern interrupt our mind needs to reboot and become even more accessible for a beautiful life. This conversation will serve your spirit, I know this for sure!
Ever wondered why he's called davidji? He reveals the source of his name in this conversation!
Inspired Round Q&A:
Most Inspiring Book- Changes often!
Favorite Song-
Best Resource-
Surprising Fact About davidji-

What you see is what you get and who he really is. He's really close with his dad who lives in FL. Reconnected 10 years ago and before that he wasn't in touch with him for 15 years. After a beautiful process of reconnecting they are very close now.  We are all going to die and the clock is ticking. Reconnect with loved ones if you haven't already.

Most Important Thing to Know About davidji-

He's not the guru he's just a guy. He's a friend who can help people connect to the best version of themselves.
Interview Links:
Thank You for Listening! Just One Favor…
If you loved what you heard, I'd love it if you'd share it using the social media buttons at the top or side of this page!
If you like what you're hearing on Inspired Conversations, I would be very appreciative of your Rating & Review in iTunes. Which will allow the show to reach an even greater audience! I will make sure to thank you by name for your (hopefully) 5-star review on an upcoming show!