Cindy Burns is the producer of FUNNIEST HO– USEWIVES AKA the "Anti-Aging Housewife" is a 28 year old trapped in the body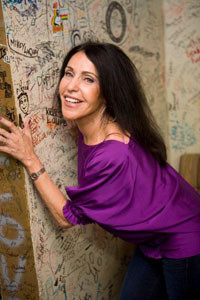 of a 58 year old. She is a favorite of the over 40 baby boomer and also produces her one women show "50 is the new F word!" Trying desperately to hold on to a positive attitude you get the feeling she could snap at any time…

Joan Rivers herself selected Cindy to be the next breakout star in a nationwide search by WEtv. She has been seen on Oprah and The Tonight Show with Jay Leno and is available for hosting and or stand up at your next private, corporate or public event.
In this Inspired Conversation Cindy will be sharing her story of surviving and thriving since her diagnosis of Stage IV colon cancer. You will be inspired and enlightened by her story of resilience and healing. Although it turned her life upside down she says it's he best thing that ever happened to her! Tune in and get ready to be inspired!
Inspired Round Q&A:
Most Inspiring Book-
Favorite Song-
Best Resource-

Laughter! Watches funny stuff on Youtube or funny movies or go to a Comedy Show
Laugh everyday – it's spiritual for Cindy and something she likes to do everyday!

Surprising Fact About Cindy-

She does so much, has a couple of businesses and is a producer she's involved in a lot but she can be so sloppy when she's in creative mode. She's a handful for tidiness!  She's ok with things being out of order, she can find order in her mess!

Most Important Thing to Know About Cindy-

Never Give Up!! No matter what you face, we all get smacked at one point or another in our lives. Never Give Up, life is such a precious gift! Give big and leave your mark!
 Interview Links:
Website:
Facebook:
twitter:
Thank You for Listening! Just One Favor…
If you loved what you heard, I'd love it if you'd share it using the social media buttons at the top or side of this page!
If you like what you're hearing on Inspired Conversations, I would be very appreciative of your Rating & Review in iTunes. Which will allow the show to reach an even greater audience! I will make sure to thank you by name for your (hopefully) 5-star review on an upcoming show!