Chandresh Bhardwaj is Spiritual Teacher, Founder of the Break the Norms Movement, and author of Break the Norms: Questioning Everything You Think You Know About God and Truth, Life and Death, Love and Sex . By drawing on ancient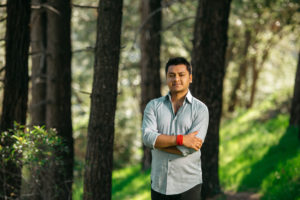 Eastern traditions of healing, meditation, and transformation, Chandresh helps others awaken their inner selves and realize their highest potential in this modern time.
Inspired Round Q&A:
Most Inspiring Book-
Favorite Song-
Best Resource-

His silence and stillness and being in nature. It has never failed him it always inspired him.

Surprising Fact About Chandresh-

 He doesn't read a lot of spiritual books. Everything he shares comes from spiritual teachers and conversations. He reads books on poetry and jokes, funny stuff. He watches interviews from directors vs watching motivational speakers.

Most Important Thing to Know About Chandresh-

He values freedom and love in every relationship. Freedom of expression to be who you are and important for him to be his truest self when he is with people as well.
Interview Links:
Book:
Website:
Facebook:
twitter:
Instagram:
Thank You for Listening! Just One Favor…
If you loved what you heard, I'd love it if you'd share it using the social media buttons at the top or side of this page!
If you like what you're hearing on Inspired Conversations, I would be very appreciative of your Rating & Review in iTunes. Which will allow the show to reach an even greater audience! I will make sure to thank you by name for your (hopefully) 5-star review on an upcoming show!