Cassie Mendoza-Jones is the author of You Are Enough, a kinesiologist, naturopath and speaker. She works with women and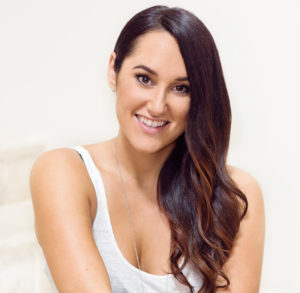 entrepreneurs, healers, coaches and creatives who are driven, devoted and honouring their dreams, and who want to become more powerfully aligned to their bigger vision, clear perfectionism, procrastination and overwhelm and create their own version of a beautiful and aligned business and life.
It's her mission to share what she knows about building and establishing a business and life that feels deeply aligned to who you are. She knows that life feels better when we push and force less, and instead, tune into flow… and so she loves helping women understand how to work with the natural rhythms and cycles of their body and energy to support the creation of their best business and life.
In this Podcast Cassie Covers:
Only say yes if it feels really good
Listen to your body – ask your body first what you can manage today and follow that essence.
Ways to balance our energy
Daily Practice:
Work from home
Freedom in her day
Starts with exercise helps her stay in her body
Some sort of practice – meditation, yoga, journaling
Crystals on her desk, pulls an oracle card, once a week
Uses energetic essence or spray that will connect her back to her
Listens to herself throughout the day and will move her body, or go for a walk if she needs to shift the energy
Honors herself and stays in tune with what she needs daily
Ask what you need for yourself and honor the need
Inspired Round Q&A:
Most Inspiring Book-
Favorite Song-
Best Resource-

Product management is her thing, anything that helps her feel organized
Ontraport system she loves

Surprising Fact About Cassie- 

Her family is South African and they went there every year when she was little and has wonderful family memories on the beach in the Cape. She also grew up horse riding and show jumping.

Most Important Thing to Know About Cassie-

She's always growing and evolving and learning more about herself. Just because she feels more grounded in who she is she's not finished and always going to honor herself. She knows she's enough but now when she sees a trigger she can manage it and not fall into a heap and feel not good enough.
 Interview Links:
Facebook:
twitter:
Instagram:
Thank You for Listening! Just One Favor…
If you loved what you heard, I'd love it if you'd share it using the social media buttons at the top or side of this page!
If you like what you're hearing on Inspired Conversations, I would be very appreciative of your Rating & Review in iTunes. Which will allow the show to reach an even greater audience! I will make sure to thank you by name for your (hopefully) 5-star review on an upcoming show!