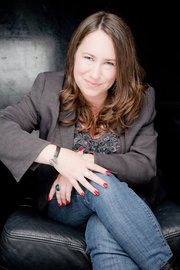 Becky has been turning the world of self-development on its head for years with her fabulous down-to-earth and uniquely funny style. Becky's teaching effortlessly blends her unique humor with groundbreaking, smack-on-the-forehead insights that put YOU in control of your own life.
Becky is a Hay House author of the book 'You DO Know – Learning to act on intuition instantly' as well as four more published books and five e-books. Becky is a sought-after speaker and has appeared at the world renowned seminar 'I Can Do It'.  Becky isn't shy of the media, having hosted her own award-winning radio show in London and now presents a show on Hay House Radio which enjoys a peak audience of two million listeners worldwide. As well as being a guest on more than 70 radio stations all over the world, Becky is also a TV pundit and presenter having appeared on This Morning, The One Show. Fiji TV (Japan) and BBC3 News and many others. She also has a unique live theater show where she gives intuitive insights on members of the audience, blended with storytelling and improv comedy. She has wowed audiences in London's West End, Bristol, Dublin, New York and San Francisco.
Becky has the unique skill of being able to hear when someone is in resonance and what is causing a discord in their life. She does this in her private practice for consultations in Bristol and London, but pops up all over the place. This conversation is brilliant and will open something up inside you to clearly connect and learn to act confidently on your intuitive hits!
Inspired Round Q&A:
Most Inspiring Book-
Favorite Song-
Best Resource-
Surprising Fact About Becky-She's just written her first fiction book, money porn. Bridget Jones meets Fifty Shades of Grey and has Eat, Pray, Love Child!
Most Important Thing to Know About Becky- She still doesn't feel prepared for the great things she's done or things that are coming. You'll never feel ready, get on and do it with the greatest sense of humor.
 Interview Links:
Thank You for Listening! Just One Favor…
If you loved what you heard, I'd love it if you'd share it using the social media buttons at the top or side of this page!
If you like what you're hearing on Inspired Conversations, I would be very appreciative of your Rating & Review in iTunes. Which will allow the show to reach an even greater audience! I will make sure to thank you by name for your (hopefully) 5-star review on an upcoming show!