Dr. Anne Wilson Schaef is an internationally known author, speaker, consultant, and seminar leader who has been described as "one of the most important thinkers of our time", "cutting edge", "way ahead of her time", and "having the vision of the eagle".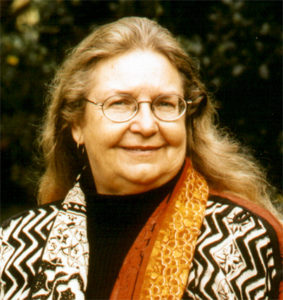 She is the author of sixteen internationally best-selling books including When Society Becomes an Addict; Women's Reality; Native Wisdom for White Minds; Beyond Therapy, Beyond Science and Living in Process.
Her books fall into two categories: 1) theoretical commentaries about the society and how it is functioning or not and 2) books for personal growth and healing. Anne is now expanding to writing children's books, short stories and novels, and periodically holds and teaches a Writers Retreat. In addition to her books, she writes a blog, and she has written numerous articles and appeared on major television, radio and web programs throughout the world. Anne has developed her own approach to healing the whole person, called Living in Process which comes out of the ancient teachings of her ancestors and her own life experience
She was raised in the traditional Cherokee way by her mother and her great grandmother, and has carried the principles taught her into her life and her work.
In 2016 she published There Will be a Thousand Years of Peace and Prosperity and They Will be Ushered in by the Women, and has several books to be published soon including Journey to Total Societal Transformation; Tales of the Klamath River; and Daily Reminders for Living a New Paradigm.
What we cover in this Inspired Conversation:
Anne wants people to know about the work.
She's the messenger. She's here to do the work, here to do it the best and with the fullest intent she can give it.
She's most concerned about the human race. We've forgotten what we are about and because of it the planet is suffering
Psychotherapy is about adjustment to a sick society and not healing and she wanted to be involved in healing. We need to heal as couples, families, institutions, not just as individuals. We need to understand the systems are sick, not the individuals.
We can heal as systems and we must start with individuals.
She talks about how rolfing helped her body after an accident
She takes care of her body, she believes in sleep, most productive first thing in the morning. she listens because her intuition/spirit speaks to her and is guided all the time, she listens and it's easy. She trusts her intuition explicitly.
She loves living her life and she loves supporting other people living life. Hear why She took 20 years off from speaking and the public eye.
When we think we know where we are going we are in trouble.
Her work is Living in Process. 1. Recovery from Addictions  (chemical or process) 2. Humans must heal from what has happened to us. We must do the work as we pass through life. 3. Make a paradigm shift. Learn to live out of a different paradigm.
The healing work has taught her that everything is process, she lives in process, her body is process, the planet is in process. The issue is
Our job is to have faith. If you participate fully and do the best you can, something is going to be different.
Inspired Round Q&A:
Most Inspiring Book- Her inspiration comes from many, many places

Loves Eleanor Roosevelt
Whatever she needs always seems to find her

Favorite Song-

She doesn't have one but she's sung in choirs around the world.
She loves all kinds of music from Vivaldi to Bob Wilson the Texas Playboys
Whatever she needs always seems to find her. When she needs a song it appears to her.
She loves music, it soothes her soul

Best Resource-

AM Joy, Saturday and Sunday Mornings –

Surprising Fact About Anne- 

She used to break and train her own horses growing up. Her mother was a horse whisperer. Animals are very important in her life they are some of her greatest teachers.

Most Important Thing to Know About Anne-

She doesn't care, it's not about her it's about what we are doing together.
She's the messenger, it's not about her
 Interview Links:
Book:
Website:
Facebook:
twitter:
Thank You for Listening! Just One Favor…
If you loved what you heard, I'd love it if you'd share it using the social media buttons at the top or side of this page!
If you like what you're hearing on Inspired Conversations, I would be very appreciative of your Rating & Review in iTunes. Which will allow the show to reach an even greater audience! I will make sure to thank you by name for your (hopefully) 5-star review on an upcoming show!