Anne Gordon grew up boating in the San Juan islands in the Pacific NW of the USA and remembers seeing Orca whales passing by as she did her homework on the beach near her childhood home in Olympia, Washington.
Anne co-founded Whale Watching Panama in 2005 when she realized nobody was offering whale and dolphin tours in Panama.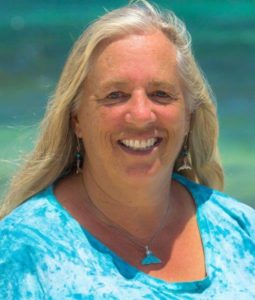 She loves spending time out with the whales and dolphins and likes nothing more than to share the beauty of the whales and dolphins and her knowledge and love of them with her clients. Anne also enjoys the spiritual aspect of the whales and dolphins and is a certified Dolphin Energy Healing Practitioner. On her Whale and Dolphin Wisdom Retreats, she shares more about the spiritual lessons she has learned from the whales and dolphins. She leads magical 5-day spiritual Whale and Dolphin Wisdom Retreats where you will open an intimate and transformational connection with the whales and dolphins in the tropical paradise of the Pearl Islands, Panama and with Gray whales in Mexico.
In this Podcast:
Her longtime, special connections with whales and dolphins since she was a child
How she's always been connected to animals, not so good with people
How she leveraged her comfort zone with animals into a career – from the film industry to be in the ocean with dolphins and whales
How the animals were her teachers to working with people in a more connected way
She followed the call of the dolphins
How her own spiritual journey led her to learn more about the spiritual aspect of dolphins and whales
When she gave herself permission to have balance her purpose came forward even deeper
The more she spent time learning and developing her connection with the dolphins and whales the more she felt satisfied with herself and her life
How she nurtures the connection with the dolphins and whales- meditation, reading, how they showed up for her in her life
How to incorporate the life skills of dolphins into our own lives; play, joy, they don't avoid the rough waters they use the force of the storm or the challenge to propel them even higher to gain the bigger perspective to find the solution.
She explains what it means to be a Dolphin Energy Healer
How dolphins are helping clinically depressed people
What dolphins want us to know right now
How we can access our dolphin spirit guides
Why whales represent abundance
Inspired Round Q&A:
Most Inspiring Book-
Favorite Song-

From the Disney Movie Moana (about how the ocean and water calls her)

Best Resource-

Nature (being out with nature, daily walks)

Surprising Fact About Anne- 

A funny incident while filming Legends of the Fall with Brad Pitt lying on the bed, while trying to position the puppy on the bed, unknowingly tapping Brad Pitts' crotch as to signalling the puppy to go to the position.

Most Important Thing to Know About Anne-

She's inspired to keep an open heart and live as transparently as possible. Dolphins can see our emotional state and in their world, there are no secrets or lies and she aspires every day to live with that kind of transparency. To be seen and loved exactly as we are.

Daily Practice-

Get out in nature even just a little walk
Daily meditation
Interview Links:
Website:
Facebook:
twitter:
LinkedIn:
Thank You for Listening! Just One Favor…
If you loved what you heard, I'd love it if you'd share it using the social media buttons at the top or side of this page!
If you like what you're hearing on Inspired Conversations, I would be very appreciative of your Rating & Review in iTunes. Which will allow the show to reach an even greater audience! I will make sure to thank you by name for your (hopefully) 5-star review on an upcoming show!