Internationally acclaimed poet, Author, novelist, translator, mystical scholar and spiritual teacher and founder, director of the Institute of Sacred Activism.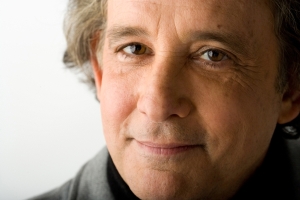 In this conversation Andrew Harvey and I talk about his book, The Hope, A Guide To Sacred Activism and about the dark night of the soul that is happening on a global scale right now. Andrew Harvey's wisdom is deep and vast, this conversation is illuminating. He also shares about his own spiritual practice and how it changes for him. Get ready because I know it's going to spark your heart and ignite your soul!
Inspired Round Q&A:
Most Inspiring Book- Rumi is his greatest inspiration. It's where he bathes!
Favorite Song- Georgia Carr, Australia, In The Garden of Flames #9 track
Best Resource- His beloved cats. A very holy relationship, being home is being with his cats, loving them, cuddling them and having the wordless holy love. He can't imagine being a human being and not being awake to the kind of holy love animals bring.
Surprising Fact About Andrew- He's funny, loves to dance and love life. He lives in a state of joy and acceptance despite the seriousness of the work he does.To face all this and stay sane and be kinder and saner and more in life and more focused on your true life's purpose. He's not awakening to a nightmare, he's awakening to extraordinary birth and possibility in the middle of the nightmare.
Most Important Thing to Know About Andrew- That he's in progress, he's not finished, any wisdom he has is what he knows now and tomorrow he might be given wisdom that changes everything he's ever said, he's on his knees in this transformation, he's not an expert in it he's a patient recorder of it and wants to share it with his friends and brothers and sisters. Experience his heart through Rumi, The way of Passion, become drunk on Rumi and amazing things will change for you!
Interview Links:
Thank You for Listening! Just One Favor…
If you loved what you heard, I'd love it if you'd share it using the social media buttons at the top or side of this page!
If you like what you're hearing on Inspired Conversations, I would be very appreciative of your Rating & Review in iTunes. Which will allow the show to reach an even greater audience! I will make sure to thank you by name for your (hopefully) 5-star review on an upcoming show!