Andrea Owen is an author, mentor, and certified life coach who helps high-achieving women let go of perfectionism, control, and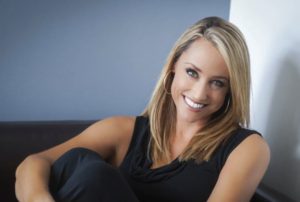 isolation and choosing courage and confidence instead. She has helped thousands of women manage their inner-critic to create loving connections and live their most kick-ass life.
She is the proud author of 52 Ways to Live a Kick-Ass Life: BS Free Wisdom to Ignite Your Inner Badass and Live the Life You Deserve, (Adams Media/Simon & Schuster) and How To Stop Feeling Like Shit: 14 Habits That Are Holding You Back From Happiness (Seal Press/Hachette Books).
When she's not juggling her full coaching practice or hosting retreats, Andrea is busy competing in triathlons, chasing her 10-year-old son and 8-year-old daughter or making out with her husband, Jason. She is also a retired roller derby player having skated under the name "Veronica Vain".
Podcast Highlights:
Shares her journey and struggles with co-dependency and love addiction
Shares the habits that have the most impact on people when having the awareness

isolating & hiding out
numbing and people pleasing

Self Critic and where she belongs

get intimate with it
know your triggers
"be gentle you're meeting parts of yourself you've been at war with" she mentions this quote
Inspired Round Q&A:
Most Inspiring Book-

she's into memoirs right now, she finds resilience inspiring, the human spirit is just magnificent and beautiful

Favorite Song-
Best Resource-
Surprising Fact About Andrea-

She gets really uncomfortable being in the spotlight, she has an outgoing personality but having a lot of attention on her is not always easy for her.

Most Important Thing to Know About Andrea-

She's still a work in progress. She's on this journey as well, she shares her lessons with you but please don't put her on a pedestal. She's been told she's brave sharing her story. What's brave to her is having hard conversations with her mom or siblings. The hard conversations take courage and are brave moments.
The most important work we do in the world is the work we do with our loved ones and families, setting hard boundaries or love them more. The healing we do, takes the most courage she's ever had to witness and be a part of.

Daily Practice

She journals – 3 things she's grateful for, 3 things that are big goals and she tracks her income. Celebrating money versus living in lack and scarcity mindset
meditates for 5 minutes, light candles and sage and voila!
Interview Links:
Books:
Website:
Facebook:
twitter:
Instagram:
Thank You for Listening! Just One Favor…
If you loved what you heard, I'd love it if you'd share it using the social media buttons at the top or side of this page!
If you like what you're hearing on Inspired Conversations, I would be very appreciative of your Rating & Review in iTunes. Which will allow the show to reach an even greater audience! I will make sure to thank you by name for your (hopefully) 5-star review on an upcoming show!